The Loop's flourishing series on democratic theory has just published its 100th instalment. At this landmark juncture, Managing Editor Kate Hawkins looks back on the series' inception and development — and wonders where it might go in the future
Back in summer 2021, philosopher and political theorist Jean-Paul Gagnon of the University of Canberra pitched us his idea for a provocative blog piece. His premise? Democracy scholarship is in such a shambolic state that it requires 'rescuing'.
In his quest to find democracy's 'total texture' Jean-Paul had, since 2010, been working with a community of scholars to create an online database recording the adjectives that have been used to modify the noun 'democracy'. Entries span the gamut, from 'representative' and 'liberal', to 'pirate', 'Waldorf' and 'Tlaxcallan'!
To help him scale yet further the dizzying heights of democracy's 'data mountain', Jean-Paul began commissioning essay-length contributions from democratic theorists the world over. The result is The Loop's 🦋 Science of Democracy series thread, which has produced pieces on subjects as widely varied as fatness and democratic exclusion, why democracies need children's suffrage, 'sporting democracy' — even 'fractal patterns' in democratic representation.
Fast forward to summer 2023. The Loop has just published its 100th contribution to Jean-Paul's thriving series — and there's no sign of it slowing down.
Global reach
Along the way, we have published pieces by 106 individual authors (some pieces are co-authored, some authors have written more than one contribution). Contributors hail from an impressive 27 different countries worldwide.
Representing East Asia, we have Yida Zhai from China, Kei Nishiyama and Tetsuki Tamura from Japan, James Wong from Hong Kong, Sor-hoon Tan from Singapore and Chih-yu Shih from Taiwan. Our first contributor from West Asia was Iran's Hojjatollah Sadeqi. And from the continent of Africa we can offer pieces from Peter Donkor in Ghana, Reginald Oduor in Kenya and Remi Chukwudi Okeke in Nigeria.
🦋 Average post readership, by publication month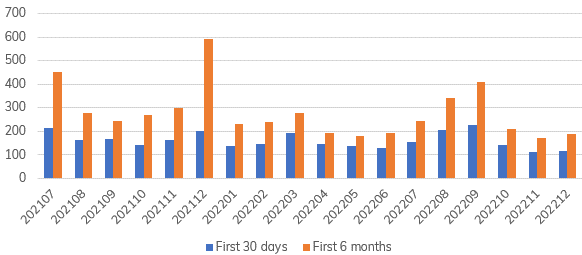 Our top ten reads
From July 2021, when the series started, to December 2022, the mean average 🦋 post received 158 unique visitors in its first 30 days post-publication, and 272 unique visitors in its first six months. The most-viewed post during that first six months was Alexander Hudson's How to measure democracy: a practitioner's view, with 1,452 unique visitors; in the first thirty days, it's Henry Giroux's The critical pedagogy of democracy in dark times, with 396.
The Hudson piece is also the most read democracy piece of all time, at #26th most-read page on the Loop. Number two is Jean-Paul Gagnon's inaugural piece in the series, followed by Paula Sabloff's contribution.
It is a mark of the series' popularity, that searches for 🦋 are the only one in The Loop's top 50 pages; users opt for that more often than they go to page 2 of the main archive.
At the time of writing, in late June 2023, the ten most widely read instalments in the 🦋 series are:
Alexander Hudson
How to measure democracy:
a practitioner's view
2,343
Jean-Paul Gagnon
Rescuing an abandoned science:
the lexicon of democracy
(foundational piece in the series)
1,793
Paula Sabloff
Democracy preserves dignity,
a means to an end, not an end itself
1,674
Norma Osterberg-Kaufmann,
Toralf Stark, Christoph Mohamad-Klotzbach
Democracy is an essentially contested concept
1,365
Henry Giroux
The critical pedagogy of democracy in dark times
997
Laurence Whitehead
Democracy: what's in a word?
805
Hans Asenbaum
Making sense of democracy
– not without the demos!
770
Sor-hoon Tan
Is Chinese democracy democracy?
786
Simone Chambers
Democracy is under threat, and we must use theory to save it
660
Kei Nishiyama
If democracy is hard to love, how can we teach it?
615
Broadening the field
The gender balance of our 🦋 series currently stands at 33% female contributors. As the series develops, therefore, we will aim to redress this imbalance with positive discrimination in our commissioning strategy. We also aim to reach out to more scholars in the Majority World, particularly in Central and South America, which are currently unrepresented.
Series stalwarts
Several scholars have contributed more than one piece to the series. Special mention therefore goes to Alex Prior, Norma Osterberg-Kaufmann, Pablo Ouziel, Rongxin Li and Toralf Stark, who have each written two 🦋 apiece.
And a hearty Loop thank-you to the University of Würzburg's Christoph Mohamad-Klotzbach, who has contributed no less than three articles to the series, as a solo author, and in collaboration with colleagues.
The 'Butterfly Collector'
Of course, none of this would have been possible without the tireless efforts of our series editor par excellence, Jean-Paul Gagnon. Not only does he have a book in the works based upon this series, he is also proposing to establish an ECPR Research Network to connect like-minded scholars and advance this flourishing corner of the discipline.
Jean-Paul's unflagging enthusiasm for the project has produced a substantial and important body of work. Its timeless quality will prove a valuable scholarly resource for democratic theorists for many years to come. We are deeply proud to have helped bring it to fruition. From all of us on The Loop editorial team, mille mercis, J-P!