Preparing your blog for submission: 20 golden rules
One of The Loop's main aims is to broaden the readership of political science scholars beyond the academic community. For that to work, however, you can't simply replicate what you do in a research article. Rethink how you write, by following our golden rules:
Keep your blog piece below 1,000 words; title, standfirst and crossheads included. We will not accept anything longer than this. If you can't say it in less than 1,000 words, it is not worth saying – at least on The Loop!
Keep the title short; no more than 70 characters, including spaces. It should state what your blog piece will argue. Research article titles tend to be cautious or safe. Blog piece titles need a provocative edge to draw the reader in.
Add a c.50-word standfirst (also known as a 'sell' or 'kicker') after the title. A standfirst has the same function as an abstract for a research article, but a more journalistic style. It should include your full name, set out your argument precisely and clearly, and entice the reader to continue. Browse some recent Loop entries to give you an idea what we're looking for.
Use short, catchy subheadings (section titles) to break up your running copy: 3–5 per blog piece is typical. Our software does not allow for more than 300 words of text without a subheading, so if your piece lacks them, we will start adding.
Keep sentences and paragraphs short. Our readability software allows a maximum of 150 words per paragraph. In practice, however, paragraphs should be much shorter than this; typically two or three sentences long. No more than 25% of your sentences should be longer than 20 words. If your piece includes lots of convoluted sentences with multiple clauses, we will start splitting them up into brief, punchy ones.
Write in good English, and standard UK English throughout. This doesn't mean your mother tongue must be English. But we are not an 'Englishing' service and we cannot do substantial Englishing on a blog without effectively rewriting the whole thing, which we want to avoid. If you suspect your English may be inadequate, ask a native speaker to check your copy before you submit it.
Tell the reader why your argument is newsworthy or important.
Stick with one main argument/theme, and ensure all content included is relevant to it.
Put your main argument up front, in the first paragraph. Research articles tend to build up towards presenting their findings at the end. Blogs do the opposite.
Use italics for emphasis (sparingly). Bold text indicates a hyperlink.
Cut out words and phrases such as 'This blog argues...' which don't add to the substance of your piece. And whenever possible, use active over passive sentence construction: 'Our research found that...' rather than 'It was found by our research that...'.
Unless absolutely necessary to clarity, avoid repeating the same point in a second sentence using different words. Say it once and move on.
Include hyperlinks and avoid formal academic referencing (no footnotes). Are you writing on a topic covered by a previous Loop blog piece? Please link back to it – this is good for Search Engine Optimisation.
Don't use abbreviations unless they are simple and obvious. Abbreviations are acceptable only when you are repeating a term multiple times. That, however, should not be happening in a blog piece.
Briefly explain the meaning of any academic concepts you use, if it is absolutely necessary to use them.
Where appropriate, attach graphs, diagrams and tables. Visuals help readers understand your argument when you only have 1,000 words to make it. Do not embed graphics in your Word file but email them as separate attachments (see below).
Neither should you embed pictures in your Word file, but if you have any ideas for royalty-free feature images to accompany your piece, do suggest them (see below). The Loop does not have a budget to purchase commercially licensed photography.
We welcome blogs that derive from original research or are based on a recently published research article. But avoid simply summarising your research in academic form. The reader must be able to understand your blog without reference to the research article (though we will hyperlink to it). This means writing it in a different way or from a new perspective – or maybe picking up on one angle only from the research article.
Write your blog as a standalone piece. Research articles constantly reference evidence from the literature, the content of which is always generic, not specified. Simply state your argument; don't describe what's written in other places.
Constantly consider your readership. The Loop aims to reach readers beyond the academic community, including politicians, policymakers, journalists, and other stakeholders – as well as informed and engaged citizens. Therefore, write your blog piece with a wide audience in mind and think how they, rather than your academic colleagues, will receive it. Is it comprehensible, interesting and engaging to a non-academic reader?
Questions? Drop us a line: theloop@ecpr.eu
Happy writing!
Editorial production process: what to expect
The Academic Editors will aim to respond to your pitch from theloop@ecpr.eu within 72 hours. If it is rejected, don't be despondent; it just means that it's not successful this time (we have to choose...). If successful, you will be asked to submit your piece, when ready, to theloop@ecpr.eu This does not commit The Loop to publishing you, but simply says that we are interested enough to see a full-length article.
You submit your blog piece to theloop@ecpr.eu.
The Academic Editors will do a first pass over it. If it's not regarded as suitable you will be emailed and informed why. If suitable, the editors will send you back a first-edit version, with suggestions and comments. You will then receive an email from Kate requesting information to complete your author profile (see below).
You submit a revised version to theloop@ecpr.eu (in very rare cases, we may repeat this cycle).
When the Academic Editors have completed their edits and the author has accepted them, the piece passes to Kaez and Kate for a sub-edit and picture research. Your piece will be edited in line with our professional readability and Search Engine Optimisation software, which checks for sentence length, use of passive language and the like.
WordPress will invite you into the Workflow to see how the piece will look when published. You can make any changes you wish, and sign off your approval. Please see below for a video tutorial.
Your piece passes to the second Academic Editor (the one who has not yet seen it) for final checks. It is very unusual for significant edits to be made at this late stage.
Following a final proofread by a member of the production team, your blog will be published. WordPress will notify you when it goes live.
We will promote your piece through The Loop's Twitter account (and related ECPR social media accounts). We will also include it in the bi-weekly Loop Digest email. Please do share widely through your own networks.
When tweeting about your piece, tag @ecpr_theloop and we will of course retweet!
Your MyECPR account, and your author profile on The Loop
All authors on The Loop must have a My ECPR account, which generates a unique User ID number. If you do not yet have a MyECPR account, we will ask you to set one up, using the email address on which you wish to be contacted on Loop-related matters. To complete your profile, we will send you a separate email, requesting:
full job title
page on your University's website (for our reference; this will not be visible on the live site)
short bio listing your research interests
personal website / blogsite, if you have one
Twitter account, if you have one that's used for professional purposes
colour headshot (see below)
Your profile image
Please submit a good quality recent colour headshot, in jpg format. Don't embed it in a Word file, but send it as a separate attachment. We cannot accept selfies or black and white images. Avoid hats, big scarves, sunglasses, and anything else that obscures your face.
Your profile image will appear square, so if you would like to crop it proportionally before you send it to us, that's fine. Make sure you have some space all around your head. The image should be at least 800px wide. If it is too small, we cannot accept it for publication.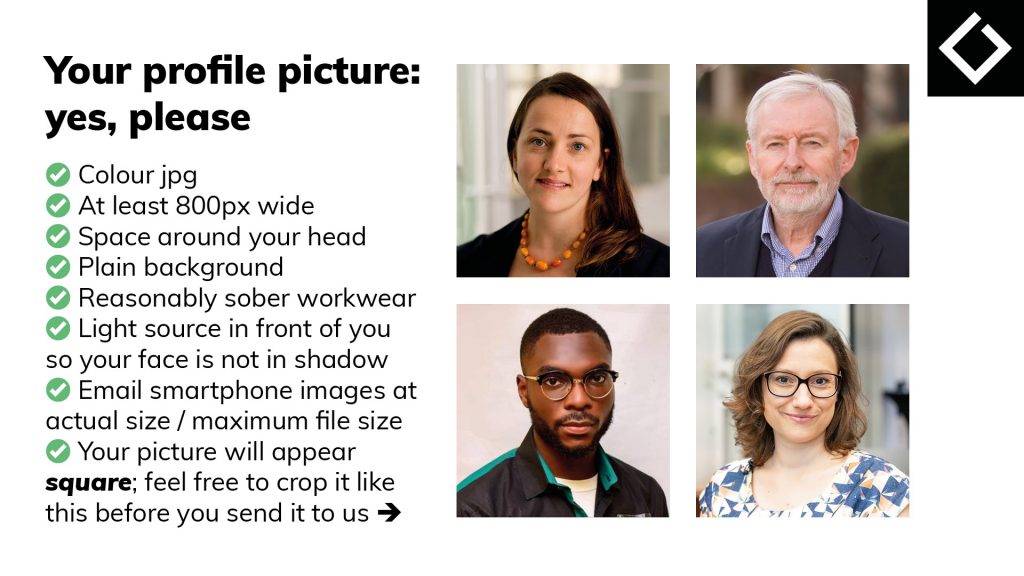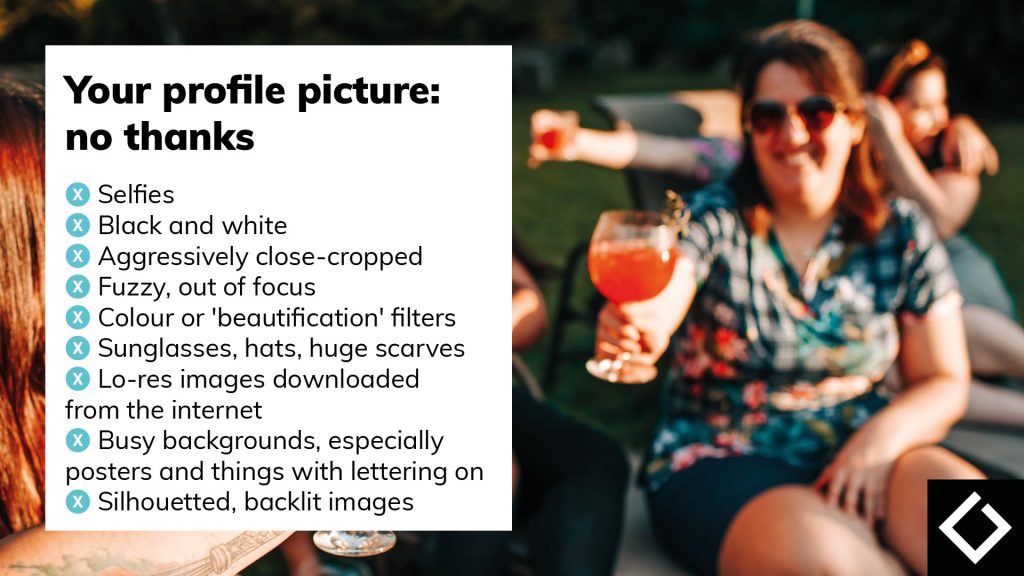 If you have ideas for a picture to illustrate your piece, please do offer suggestions. This is particularly important if there is no obvious visual theme and a more abstract accompaniment is required. You can create free accounts at online picture libraries such as Pixabay, Unsplash and Pexels, on which you can search by keyword.
You are welcome to provide your own image from a different source, but it must be at least 1600px wide and you must have written permission for us to publish it online, royalty free.
Perhaps you have strong feelings about imagery you do not want us to use, whether for safety / sensitivity reasons or because you feel it might undermine your message. If this is the case, please let us know when you submit your copy.
Figures, graphs and tables
Please do not embed any figures or graphs in your Word file; this should contain only text.
Supply accompanying figures and graphs separately, as jpgs, at as high a resolution as possible. Poor quality graphics may not render clearly enough on screen for us to be able to publish them.
We may need to recreate tables in order for them to display correctly.