Russian drone and missile strikes on Ukrainian critical energy infrastructure have forced Kyiv to ask Israel for help. According to Nikola Mikovic, the Jewish state could eventually start providing weapons to Ukraine – although Israeli officials are unlikely to publicly confirm it
While Iran continues supplying Russia with kamikaze drones, Ukraine seeks to purchase air defence systems from Israel – the Islamic Republic's archenemy. The Jewish state, however, appears hesitant to engage in open and direct military cooperation with Kyiv, despite supporting Ukraine's war efforts since the very beginning of the Russian invasion.
On 19 October, Israel announced that it does not intend to provide Ukraine with air defence systems. According to Defence Minister Benny Gantz, Israel will not transfer weapon systems to Ukraine 'due to a variety of operational considerations'.
'I want to make it clear that we are not selling weapons to Ukraine', Gantz stressed, emphasising that Israel will still continue, within its limitations, to support the war-torn country.
Israel is ready to help Ukraine build an early warning system capable of combating hi-tech kamikaze drones
Gantz also said that the Jewish state is ready to assist Kyiv in developing a lifesaving civilian early-warning system which could help Ukraine combat the Iranian-made drones Russia has been using in recent weeks. Indeed, some experts believe that Israel has enough experience and technology to counter weapons such as Iranian Shahed-136 kamikaze drones.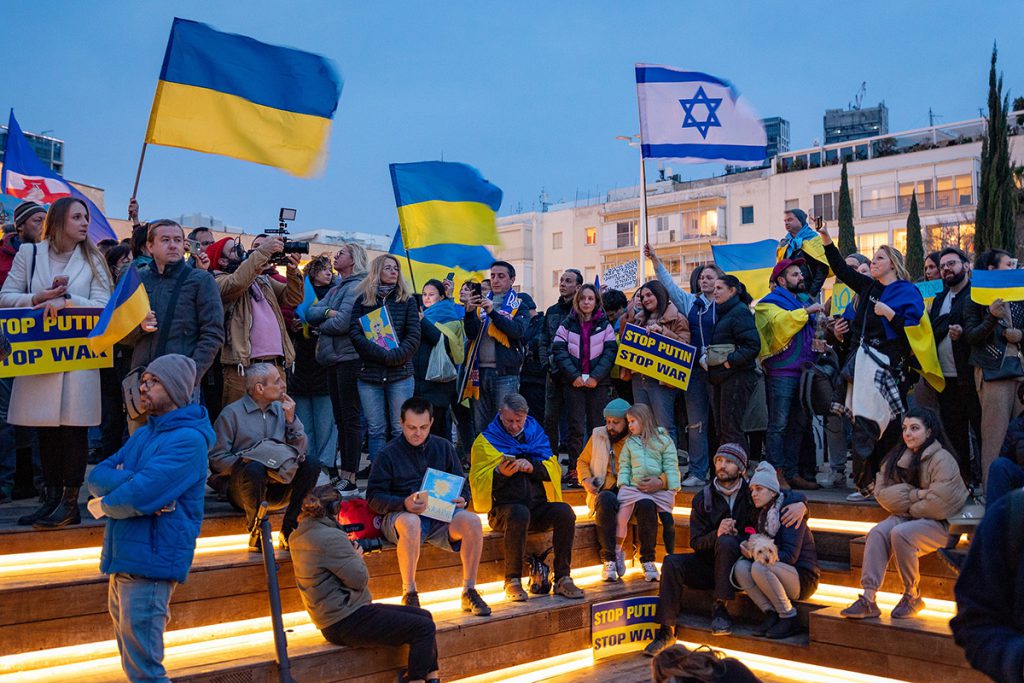 More than humanitarian aid
Iran, for its part, is reportedly ready to supply Russia not only with new drones, but also with Fateh-110 and Zolfaghar surface-to-surface missiles. Yet neither Moscow nor Tehran have officially or explicitly confirmed nor denied reports of Iranian drones being used in Ukraine. It is, therefore, an open secret that the Russian military is using Iranian unmanned aerial vehicles (UAV) to attack Ukrainian critical energy infrastructure. As a result of such Russian actions, the West has increased deliveries of advanced air defence systems to Kyiv.
Even if Israel does decide to start arming Ukraine, it may refuse to confirm this in public
More importantly, on 25 October Israeli military officials attended a meeting of Western countries to discuss supplying more weaponry to Ukraine. Such a move signals that the Jewish state might soon reverse its previous decisions, and start providing the Eastern European country not only with humanitarian aid, but also with advanced weapons. If that happens, it is entirely possible that Israel will use the same strategy that Russia and Iran are using. It will supply Ukraine with air defence systems, but will publicly deny it.
Russia and Iran are not allies
Israel fears that Russia may eventually supply Iran with modern air defence systems – namely S-400 – as well as with modern aviation. That is a development for which Tehran has long been hoping. But the longer the Ukraine war drags on, Moscow will become less able to afford to sell weapons to the Islamic Republic. What Russia could do, though, is transfer certain nuclear technologies to Iran, a move that could easily provoke a new conflict in the Middle East.
At present, the Islamic Republic is fighting hybrid wars in Syria and Yemen. In Lebanon and Iraq it is arming and funding its proxies. Any outbreak of conflict in the Middle East will almost certainly lead to even higher energy prices worldwide. Russia and Iran, as major oil and gas exporters, could benefit from such an outcome. It is, therefore, not surprising that Moscow has started developing close energy ties with Tehran.
Russia has refused to sell arms to Iran – fearing confrontation with the US and Israel
In spite of that, the two countries are not allies. They are not even strategic partners. Or, at least, not yet. In 2019, Moscow refused to provide Iran with an S-400 missile system, even though the request allegedly came from the very top of the Iranian political leadership. Kremlin officials explained that 'the sale would stoke more tension in the Middle East'. In other words, Russia tried to avoid any confrontation with the United States and Israel over this very sensitive matter. But the Ukraine war can change that, because Moscow and Tehran – both under Western sanctions – now have nothing to lose.
The role of Russian oligarchs
On 17 October, former Russian President Dmitry Medvedev warned the Jewish state against arms deliveries to Ukraine, emphasising that such a move will 'destroy all interstate relations between Russia and Israel'. Even if that happens, Russian oligarchs are unlikely to destroy their own personal relations with the Jewish state.
Three of the most high-profile sanctioned Russian oligarch billionaires have Israeli citizenship: Alfa Bank cofounders Mikhail Fridman and German Khan, and Roman Abramovich. In addition, Russian businessman Valery Kogan, believed to be Putin's ally, in 2013 reportedly invested at least US $100 million to build a White House-style luxury mansion in Israel. Finally, more than 30 Russian Jewish tycoons are believed to reside in Israel.
Given that oligarchs still have relatively strong influence in the Kremlin, Russia is unlikely to cut its ties with Israel, even if Middle Eastern nations start providing Ukraine with weapons. The Kremlin is quite aware that Israeli air defence, despite Russian S-400 presence, has the capacity to destroy large parts of a military infrastructure in Syria – Moscow's only ally in the region.
More importantly, if Turkey – Russia's situational frenemy – can preserve 'friendly' relations with the Kremlin, despite the fact that it continues selling Bayraktar drones to Ukraine, it is very probable that Moscow will simply turn a blind eye to a potential Israeli arming of the war-torn country.