Since 2010, Hungarian Prime Minister Viktor Orbán has carried through measures that have undermined the rule of law, with no prospect for changing this trajectory. However, argues Andrew Richard Ryder, current events present opportunities for a return to democratic values in Hungary
Decline of the rule of law
In Hungary, the intimidation of civil society mirrors that playing out in Russia under Putin. Life for minorities in Hungary is also challenging. The government fuels homophobia, claiming there is a risk that LGTBQ propaganda can indoctrinate youth. On the same day as the forthcoming election, the government will hold a referendum. This asks whether the nation supports a law banning gay people from featuring in school educational materials or TV shows for under-18s.
The autonomy of the media, too, is being undermined. Pro-Orbán businesses control swathes of the media, and loyalists direct state media. Oligarchs close to Orbán have gained control of important sectors of the economy. Nepotism and corruption appear to run rife.
Oligarchs close to Orbán have gained control of important sectors of the economy
Academic freedom and autonomy also face serious threat from a programme of privatisation. Universities and museums are being turned into foundations controlled by boards loyal and faithful to Orbán. This initiative has been denounced as the creation of a state within a state. Some call it part of an insurance measure by Orbán, against the event of him possibly losing power in the 2022 election, to retain a huge amount of influence and resources even when out of power.
The weekly Heti Világgazdaság (HVG), an important Hungarian magazine, compared the foundation scheme to 'feudal goods' that feudal rulers give to their vassals. The opposition denounced it as robbery. Professor Kim Lane Scheppele of Princeton University notes that the reform removes all transparency around the spending of EU funds. Any assets that go into these foundations go off the public books. In other words, out of the purview of the state audit office, out of the reach of freedom of information requests, and out of all public accountability.
A hybrid regime
Freedom House, a non-profit NGO, classifies Hungary as a hybrid regime, in other words an 'electoral autocracy'. Orbán has been adept at forging close links to other authoritarian leaders including Bolsonaro, Putin and Trump.
Freedom House, a non-profit NGO, classifies Hungary as a hybrid regime or 'electoral autocracy'
Hungary's numerous transgressions have led to the European Union initiating legal action against it. The EU even held back funding for Hungary until it agreed to abide by the rule of law. Orbán, of course, interpreted this as a one-sided attack by Brussels.
Until a few weeks ago, the stage seemed set for Orbán to lead a Eurosceptic, illiberal election campaign reminiscent of the 2018 election. In that year, Orbán portrayed the Hungarian philanthropist George Soros as a nefarious puppet master using his wealth and influence to undermine Hungary's government. His depiction was rife with antisemitic tropes. Through the so-called 'Soros Plan', Soros and his network of supporters supposedly wished to see Europe flooded with migrants, changing Europe's identity and outlook forever. In contrast, Orbán proclaimed, his own nativist agenda would preserve Christian identity in Hungary.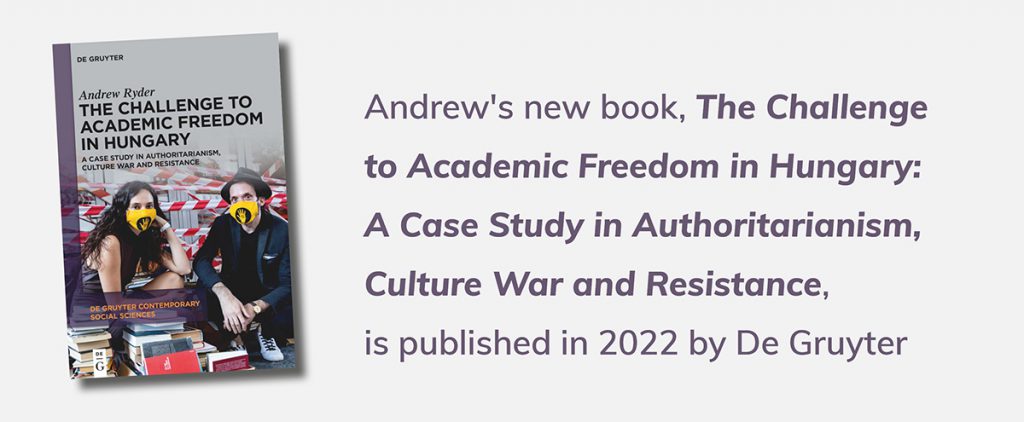 Hope for the future
Despite the shocking situation in Hungary, recent weeks give me hope. The tragic outbreak of war in Ukraine has led to a wave of refugees coming into Hungary. But unlike in 2015, these refugees are not being demonised. The nation is coming together to do its best to help the refugees, and what is left of civil society has played an active role in this.
This mood of compassion among the Hungarian people goes against Orbán's rhetoric and mindset, and could – should – affect the outcome of the April election. The war, after all, demonstrates what can happen when there is no respect for the rule of law.
A chance for change
Hungary has the potential to return to democratic values and the ideals of a progressive and mutualist Europe. The country is rightfully proud of the importance it attaches to education and the strength of its intellectual thinkers. Jews, Roma, Germans, and many other diverse minorities shape its character. For centuries, these minorities have lived as Hungarians and contributed greatly to the country.
Hungary bears scars, but these very scars made Hungary one of the strongest democracies in Central Eastern Europe during the post-Communist transition
It is true that Hungary bears scars. The cruelty of extreme nationalism, the fascism of the inter-war and war years, and the oppressiveness of postwar communism – all have left their mark. But these experiences, during the post-communist transition of the 1990s, made Hungary one of the strongest democracies in Central Eastern Europe. It was also one of the greatest champions of the EU.
These are visions of home that I hope to see Hungary return to! As the horror of Putin's illegal invasion of Ukraine unfolds, we are witnessing extreme national chauvinism, demagoguery, and disrespect for the rule of law. Orbán needs to go. Hungary can, and must, do better.
No.10 in a Loop thread on the 'illiberal wave' 🌊 sweeping world politics
Online launch event for Andrew's book is on 24 March 2022.