Post-Brexit, support for EU referendums persists in the party systems of most EU member states. Kai Oppermann finds that this support comes mainly from Eurosceptic opposition parties, often on the populist far right. The Brexit effect on party positions has, in fact, been relatively weak and uneven
EU referendums: it's not just been about Brexit
The Brexit referendum has dominated media coverage since 2016. Yet we shouldn't forget that EU referendums have, especially since the Maastricht Treaty, constituted a regular part of European debate through which European integration has become increasingly politicised.
Overall, there have been no less than 60 national EU referendums, more than 75% of which have taken place post-Maastricht. Questions have ranged from EU membership and European treaties, to specific European issues, such as the single currency. Less than a third of these votes were constitutionally required, and governments have lost about one in four of them.
EU referendums have thus become a significant constraint on European integration. They have even derailed major European initiatives, such as the 2005 Constitutional Treaty. That raises the question of what the Brexit effect is likely to be on the future trajectory of EU referendums.
Brexit as a potential watershed
The short answer is that we are not sure. Brexit might have a contagious effect if the vote encourages political elites in other EU member states to follow the UK example. At the same time, it might set a negative precedent that discourages political elites to endorse EU referendums. Much depends on political parties because they are the main initiators of such votes, and the driving influence behind government decisions.
The key role of political parties
I explored this issue through an expert survey published in the Journal of Contemporary European Studies, which mapped party support for non-required EU referendums across the EU. The survey elicited 164 responses from academic experts on the party politics and European policy of EU member states. It identifies 38 political parties represented in the parliaments of 18 EU member states that support referendums on EU-related issues. Support varies across EU party systems, but is strongest in Italy, Greece and the Czech Republic. Sweden and the Netherlands follow behind.
countries with the strongest parliamentary support for EU referendums also display particularly high levels of Euroscepticism
It is notable that the three countries with the strongest parliamentary support for EU referendums also display particularly high levels of public and party-based Euroscepticism. This indicates that parties are drawn towards EU referendums to mobilise Eurosceptic sentiments in public opinion and in parliament. The issues that parties want to put to EU referendums fall into four types. These are: EU withdrawal, treaty revisions/transfers of power to the EU, individual items on the EU agenda (in particular the Euro), and unspecified 'important' European questions.
The party types that support EU referendums
EU referendum support comes, in the main, from five overlapping types of political parties. See the figure below. First, EU referendum demands tend to be a political weapon of opposition parties, which make up 31 of all 38 pro-EU referendum parties. Second, EU referendum support originates largely in Eurosceptic parties, of which there are 32. In fact, 26 parties that support EU referendums are both in opposition and Eurosceptic. This suggests that the strategic and ideological incentives of the two groups to endorse EU referendums reinforce each other. In contrast, pro-European motives for EU referendum demands are extremely rare, and have been found in only three parties. Third, EU referendum support accumulates at the ideological extremes of national party systems (29 parties). These parties are mainly – but not exclusively – on the far right. Fourth, almost two-thirds of all European parties that endorse EU referendums are populist (24 parties).
opposition parties make up 31 of all 38 pro-EU referendum parties
Almost without exception, these parties are also Eurosceptic. Many European populist parties have adopted populism's anti-establishment message in combination with Euroscepticism. It is this combination that pulls such parties towards EU referendums. Moreover, EU referendum support is much more entrenched on the populist far right (17 parties) than on the populist far left (5 parties). In fact, the populist far right constitutes the greatest single source of party demands for popular votes on Europe. Finally, most pro-EU referendum parties are relatively small, gaining less than 10% vote share in the most recent national elections (22 parties).
EU referendum support, by party type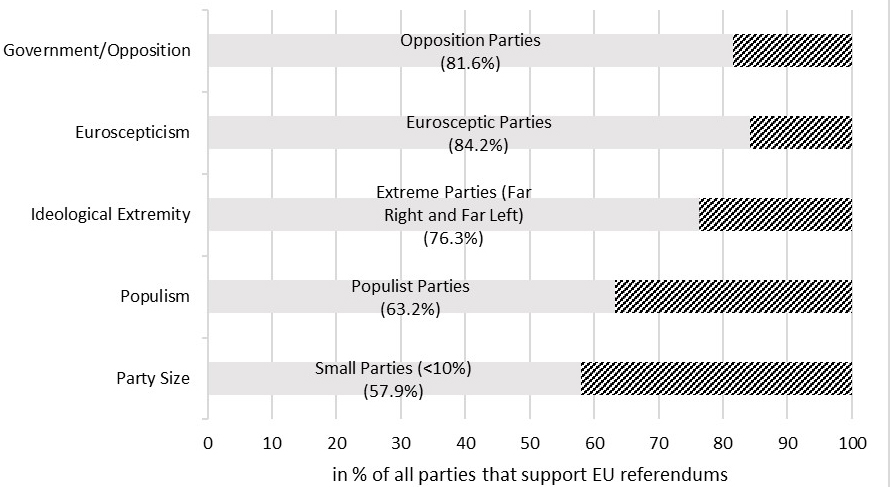 A Brexit effect?
The impact of Brexit on party support for EU referendums has been relatively weak and uneven. My survey shows that most pro-EU referendum parties in Europe were unaffected by Brexit. This suggests it is mainly national party politics that drives support for EU referendums. Moreover, of the 14 pro-EU referendum parties that were affected by Brexit, the experience worked to strengthen EU referendum support in seven cases. The effect was the opposite for the other seven parties.
the Swedish Democrats toned down their demands for a Swedish withdrawal referendum when the complications of Brexit became clearer
Brexit inspired some Eurosceptic parties on the far right to double down on their referendum demands, in particular for withdrawal referendums. It might also have inspired them to articulate such demands in the first place. A case in point is the Czech SPD, which wants the Czech Republic to leave the EU 'in an English way'.
Yet a different pattern emerges in a second group of parties, also on the Eurosceptic far right. These parties were initially encouraged by Brexit to reinforce their EU referendum support, but they downplayed that support as the Brexit process unfolded. This applies, for example, to the Swedish Democrats, who toned down their demands for a Swedish withdrawal referendum when the complications of Brexit became clearer.
EU referendum support is not currently high on the agendas of EU member states. But there is a reservoir of EU referendum support into which parties can tap, and that might broaden out if and when the political focus swings back to salient European issues. Party political contestation about calling EU popular votes will therefore likely remain an important part of the domestic politicisation of European integration. And it doesn't necessarily need another '…exit' referendum to make it happen.