Germany's largest far-right protest movement, PEGIDA, this month celebrates eight years of mobilisation and protest activity. Its survival, argues Sabine Volk, is a puzzle not explained by social movement theory. She explores an overlooked explanatory factor: PEGIDA's repetitive protest ritual
Protest mobilisation is hard work. Activists need to invest a lot of time and money to build a stable support base willing to take to the streets. The long-term survival of social movement players is, therefore, rather unlikely.
Over the past couple of years, European far-right groups have had an especially hard time. Since the 'refugee crisis', far-right parties have consolidated their positions in European politics, effectively stealing street movements' thunder. During the pandemic, governments restricted public protest altogether. Nobody talked any more about immigration and Islam, pet subjects of the far right.
Powerful protest rituals
Some European far-right groups, however, have survived against all the odds. So the puzzle is how some far-right organisations have managed to remain on the streets. Based on two years of ethnographic fieldwork within a German far-right movement player, I articulate a new explanation for movement continuity: protest rituals.
Protest rituals are activists' symbolic performances in the public space. They are repetitive events characterised by a standardised 'political liturgy' and dense symbolism.
The common belief in the higher sense of the protest ritual keeps activists going, even in adverse conditions
To outsiders, protest rituals such as May Day demonstrations may seem superfluous: they tend to express activist identities rather than formulating concrete political demands.
Yet, for participants, protest rituals are deeply meaningful. They carry a sense that goes beyond the organisation of (and participation in) a single demonstration. The common belief in the higher sense of the protest ritual keeps activists going, even in adverse context conditions. Protest rituals therefore facilitate movement continuity.
PEGIDA in Dresden
Germany's 'Patriotic Europeans against the Islamisation of the West' (PEGIDA) is one such tenacious far-right organisation. PEGIDA emerged in the eastern German city of Dresden in 2014. Its demonstrations attracted up to 20,000 protestors in early 2015: the largest far-right events in the country since the Second World War. PEGIDA also spread to other parts of Germany, other European countries, and even to Canada and Australia.
PEGIDA has engaged in roughly 240 demonstrations, around 50 of those during the past three years
Against the expectations of media observers and the predictions of social movement theory, PEGIDA has persisted in Dresden and remains a presence there today. Since 2014, the movement has engaged in demonstrations on roughly 240 occasions, around 50 of those in the past three years. Most of these events were relatively orderly, non-violent street demonstrations involving about 1,000–2,000 participants. Some, especially the annual anniversary celebrations, were large stationary rallies with more than 3,000 demonstrators and international guest speakers. PEGIDA also maintains a presence on social media, using platforms such as Facebook, Instagram, Telegram, YouTube, and Gettr.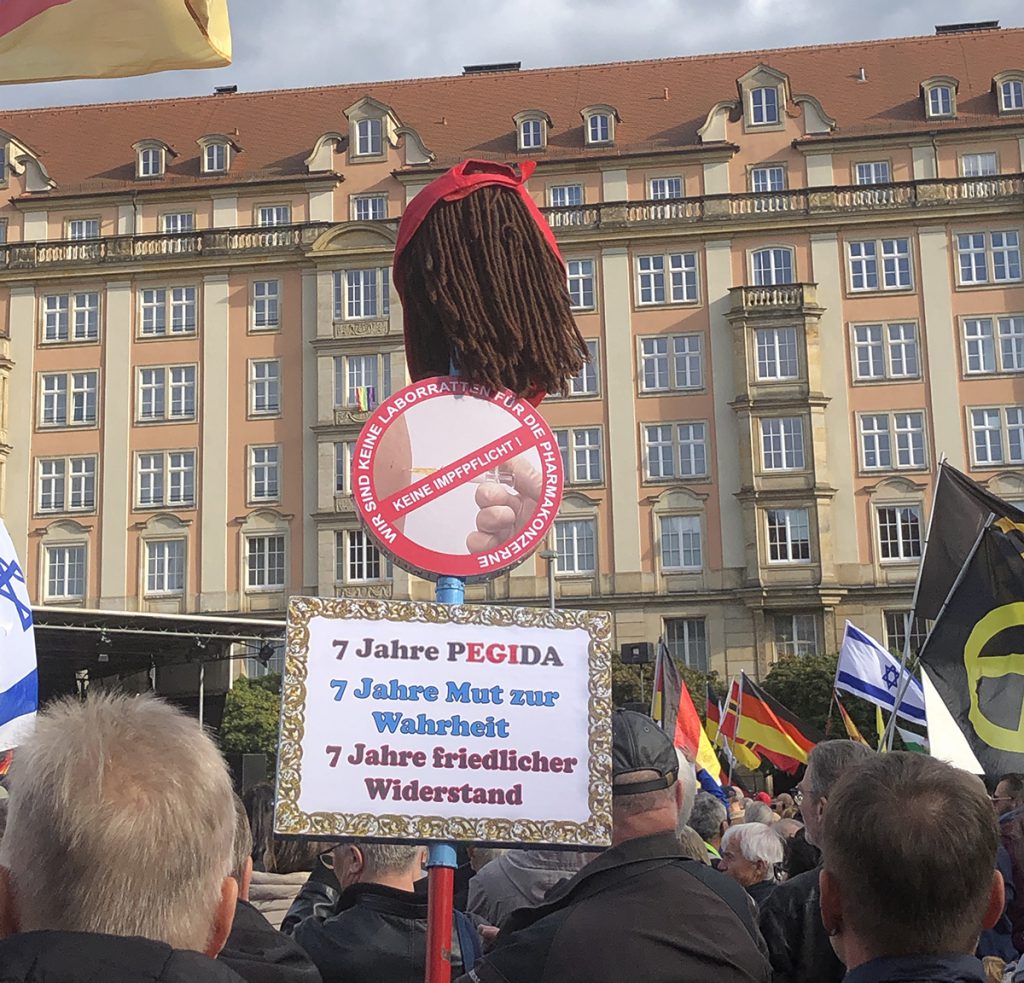 In October 2021, the author joined a crowd of supporters marking seven years of PEGIDA on Dresden's picturesque New Market square. One year on, PEGIDA is Germany's longest-lived far-right protest group, currently celebrating its eight-year anniversary.
Photo Sabine Volk
The PEGIDA ritual
In 2019/20, I observed numerous PEGIDA demonstrations. In 2020/21, I followed the group's online activism on YouTube. Based on these physical and digital fieldwork experiences, I argue that it is mainly PEGIDA's protest ritual that accounts for the persistence of protest in Dresden.
PEGIDA's single form of protest is the standardised demonstration, a ritual that draws from regional history and political symbolism. Its 'political liturgy' includes an original 'PEGIDA anthem', speeches by movement leaders and guests, a march, and the German national anthem. It usually takes place at beautiful and historically significant locations in Dresden city centre.
PEGIDA's demonstration ritual draws from regional history and political symbolism – and takes place at beautiful, historic locations
For activists, 'doing a PEGIDA' signifies 'democratic' and 'non-violent resistance' against an alleged 'leftist dictatorship' in Germany. They claim that, in the long term, their protest will lead to a radical systemic change in Germany – 'as in 1989'. They also compare their demonstrations to the Peaceful Revolution in communist East Germany in 1989/90.
The group's supporters do not take issue with the repetitiveness and standardisation of protest. Rather, PEGIDA's continuity has become a value in and of itself. Detached from tangible, short-term political success, activists fashion themselves as resistant protest organisers: 'PEGIDA came to stay, we stay until we win, and we will win!', is one of the rallying cries.
Introducing virtual protest rituals
How crucial the protest ritual is for PEGIDA's survival became clear during the pandemic spring of 2020. To conform with the restrictions of the first lockdown, PEGIDA did not devise new forms of protest. Rather, the movement leadership adapted the existing street protest ritual to the virtual realm.
In April and May 2020, PEGIDA mobilised to hold weekly 'virtual marches' livestreamed via YouTube. Gathering the movement leadership, guest speakers, and roughly 2,000 YouTube users, the virtual protest events featured the same political liturgy as the street demonstrations. Leading activists even found a way to accommodate the classical march by displaying a high-speed video of a past march in Dresden.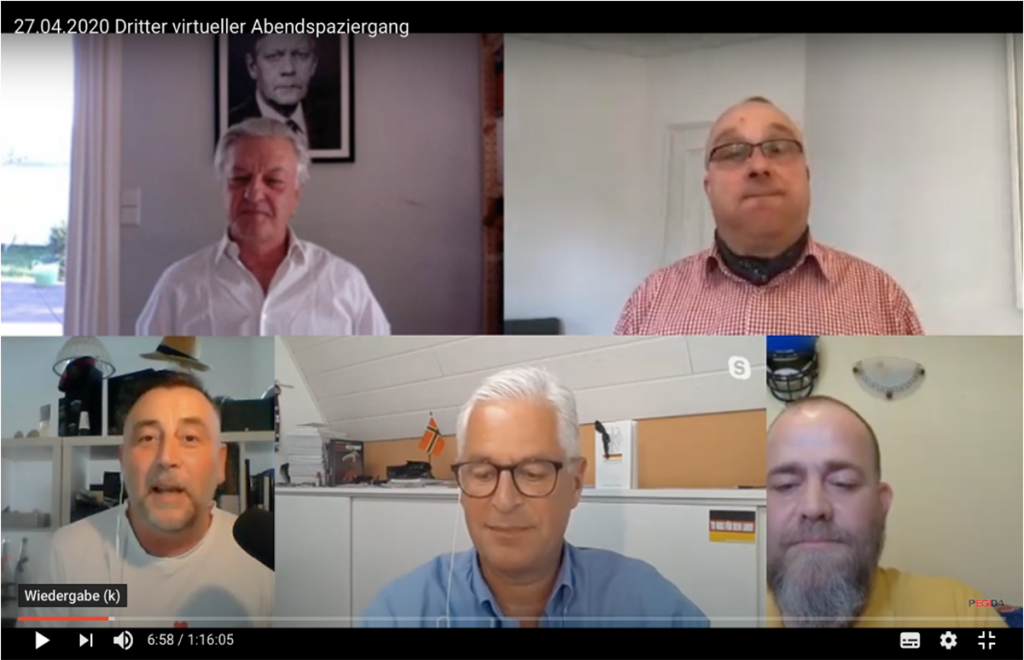 PEGIDA's virtual protest ritual underscores the outstanding role of the internet and social media for (far-right) activism. They are not only a tool to communicate with supporters. Digital spaces also offer new opportunities to consolidate groups and stage novel forms of symbolic performances.
Agents of their own destiny
Observing PEGIDA over more than two years, my research highlights the agency of social movement players, even on the far right of the political spectrum. Far-right protest is not only dependent on favourable context conditions. Far-right groups can act as strategic political agents, for instance when they create and consolidate protest rituals that ensure their survival for extended periods of time.
The notion of agency entails important consequences for scholars and for European societies aiming to counter the far right. We must focus on the micro and meso levels of mobilisation to understand the dynamics of far-right protest, and devise effective counter-measures.