For Ryan Salzman, placemaking is a viable form of political participation that has the potential to meet or exceed some forms of traditional participation in democratic effectiveness. It is time we recognised these contemporary alternatives to traditional political participation so that we can truly understand twenty-first century democracy
Placemaking – what it means
Chances are that you have heard the word 'placemaking' before. Maybe even recently. If not, then you are in a shrinking minority.
Placemaking is a term that is increasingly commonplace, including among elected officials, bureaucrats, and students of politics. It is an umbrella label for a variety of ways in which an underused space is developed into an active place. Little libraries, murals, community gardens, pop-up markets, painted crosswalks, and temporary infrastructure are examples of placemaking, and it is difficult to find a community where placemaking is not happening.
Placemaking initiatives can be temporary or sustained. They are conceived and executed by individuals and groups of varying composition. However, nonprofits, community activists, and governments are most active in placemaking. The purpose of these events and programmes mirrors the mission of the individuals and agencies undertaking them.
Motivators of placemaking behaviour
My research on placemaking in the United States identifies multiple motivators of placemaking behaviours – real estate development, community development, community aesthetics, and influencing policy were most popular among interviewees and survey respondents. And while development and aesthetics are typically the first motivations highlighted by placemakers, it is the policy and political implications that interest me most.
Over the last 15 years I have personally witnessed placemaking events and programmes leading directly to policy change. At the same time, placemaking fosters associational behaviours between participants. Taken together, placemaking has all the ingredients of robust democratic behaviour.
A motivating example
In the Walnut Hills neighbourhood of Cincinnati, Ohio there is a space where five alleys converge in a well-hidden location behind buildings. Ten years ago, this space was dilapidated and dangerous. Public officials wanted the space cleaned up, so they turned to the local community development corporation for help.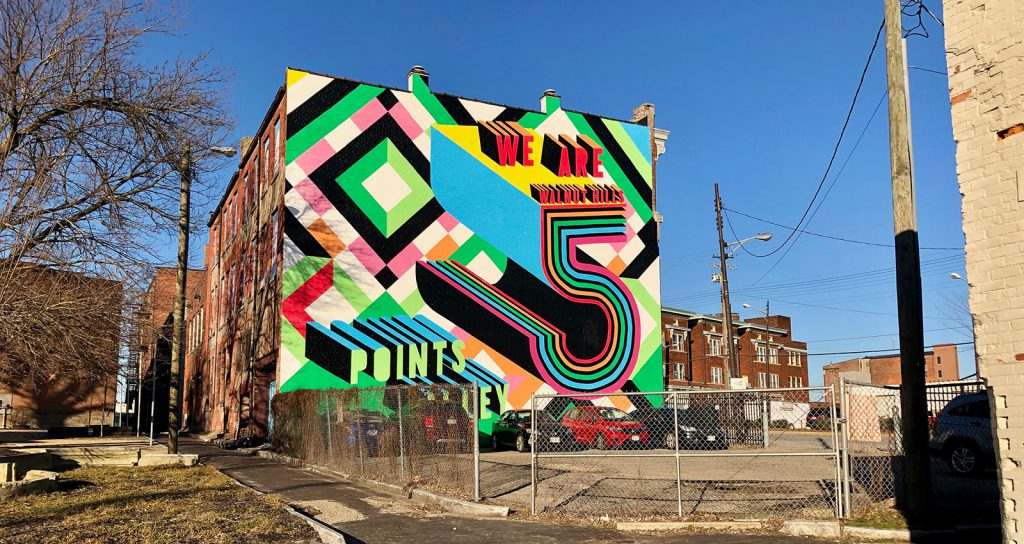 Led by innovative staff and committed community members, 5-Points Alley underwent a multi-year transformation. Clean-up days were punctuated with a pop-up biergarten. Later, the biergartens added food and music. Eventually, permanent infrastructure was added for seating. As this space became an active place, it attracted businesses to commercial spaces adjacent.
The 5-Points Alley in Cincinnati, Ohio underwent a multi-year transformation from a dilapidated, dangerous bit of waste space to a vibrant space celebrating and supporting the local community
This process has played out across America and around the world. But 'urban (re)development' is only part of the story of placemaking.
As a result of the success of 5-Points, the city of Cincinnati further committed to enabling placemaking elsewhere. It revised regulations, making it easier to do public works. Nonprofits committed funds to sustaining the work of 5-Points Alley, and expanding to similar projects in other neighbourhoods. Crime decreased as vibrancy increased.
Now the 5-Points Alley hosts events that support and celebrate the predominantly African-American community in this neighbourhood. This placemaking initiative is an unmitigated political success, despite the fact that politics was not front and centre.
Bringing people together
In the example of the 5-Points Alley and countless others like it, I identify multiple mechanisms of democratic governance.
Placemaking events are demonstrative. While participants enjoy the event immediately, policy makers and bureaucrats have the luxury of imagining what is possible in the longer term. Placemaking demonstrates what is possible, knocking down myths that prevent durable policy change. This is policy responsiveness.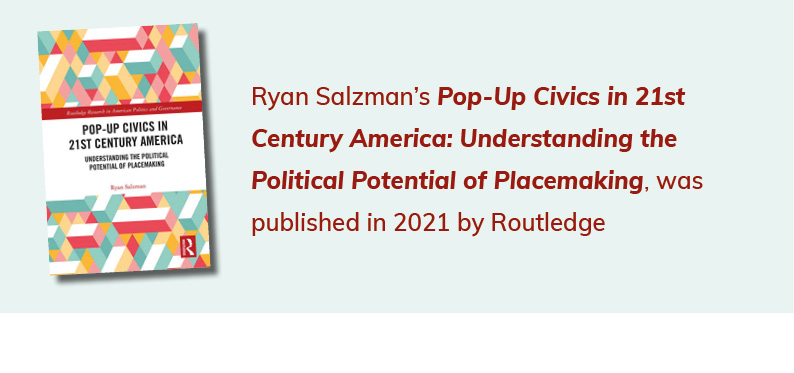 Placemaking can mitigate community concerns. Temporary bike lanes, for example, demonstrate that bike infrastructure won't inhibit car transit or increase risks to public safety – typical concerns voiced by people that oppose enhanced bicycle infrastructure. The temporary installation is easier to approve because it is cheaper and already slated for removal. And yet it often becomes permanent once the concept is actually demonstrated.
Placemaking events are demonstrative of potential, and the process brings people together, mitigates community concerns, and may draw people into further political involvement
Placemaking brings people together. Advocating for and installing the temporary bicycle infrastructure and other group-led placemaking initiatives are forms of associational behaviour. Adding social media into this dynamic produces iterative interactions similar to the classical associations viewed by scholar advocates like Putnam as essential to democracy. The effects of placemaking relative to traditional associational behaviour may not be identical but it does build political capital.
These dual constructs – policy responsiveness and associational behaviour – lead me to a clear conclusion: placemaking has tremendous political potential.
Add to those dualities the fact that interviewees and survey respondents in my research report a (potential for) civic spillover. Placemaking participants can be inspired towards other civic and political engagement. Any set of behaviours that has the potential to cause policy responsiveness, associational behaviour, and civic spillover deserves further consideration as a legitimate form of democratic political participation.
What's the big deal?
At this point you either buy that placemaking has political potential or you remain sceptical. Either way, you are probably asking yourself a question: even if placemaking is a form of political behaviour, what's the big deal?
If we can accept that placemaking has the potential to be included in our registry of democratic behaviours then we should consider the very real potential that other democratic behaviours are emerging (have emerged?), and deserve inclusion in the pantheon of influences upon democracy. Put another way, it is time for us to reopen the nominating process for relevant democratic behaviours. Simply tweaking the way that we study classical political participation cannot be the entire future of political science.
Placemaking as democratic behaviour opens up many new lines of enquiry – and asks us to consider whether other democratic behaviours have emerged and deserve consideration
In trying to understand the political potential of placemaking I have found political science to be generally reluctant to consider alternatives. Our weddedness to classical concepts and ever-advancing statistical methods has created a feedback loop that places serious limits on our ability to acknowledge innovation.
Is placemaking an appropriate response to Putnam's lamentations about declining social capital? Is it possible that placemaking drives policy responsiveness among politicos more effectively than traditional protest behaviour? Does figuring out the why to these questions open up other avenues for twenty-first century political inquiry?
Placemaking is not an exception to traditional political participation. Placemaking is an example of one of society's greatest traditions: change.