Academic Editors Johanne Døhlie Saltnes and Martin Bull reflect on the gender balance among Loop authors. Our blog site has taken initiatives to boost the proportion of female contributors, but there is still room for improvement
As editors of the Loop we pay close attention, among other things, to the gender balance of our contributors. Early on, we identified as a key aim having 50% of our published output by authors who identify as female. But this goal has proved difficult to achieve.
The Loop launched in October 2020, in the midst of the pandemic, with fifteen blog articles on a wide array of topics. Out of these fifteen we had a 50:50 distribution of contributors by gender – fifteen women and fifteen men. Five blog articles were by female contributors (single-authored or co-authored), six by male (single-authored or co-authored), and five mixed co-authored. Since then, however, the number of female contributors has gone down. Why?
Gender of published authors on The Loop, 2021–2022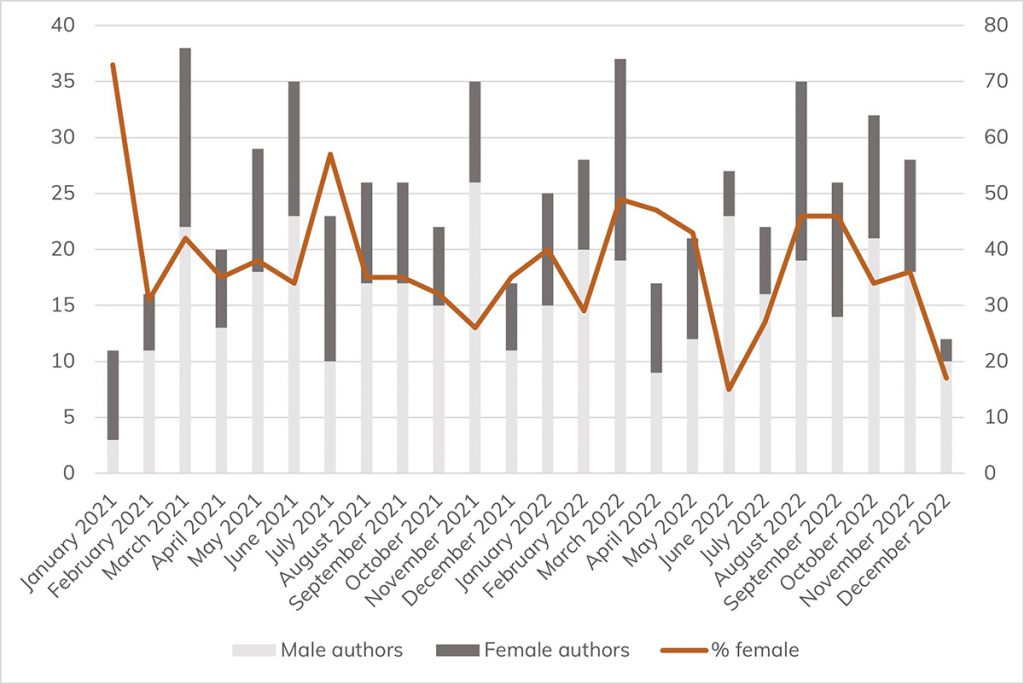 Women are less likely to submit a pitch
On the Loop, posts come to us via two routes. Contributors can pitch us their idea spontaneously using the form on our website. Alternatively, we may reach out to a potential contributor, by email or on Twitter, asking them to write for us. We call this process commissioning.
The spontaneous pitches we receive are far more likely to come from men. During only two months of analysis has the reverse been true – in January and May of 2021:
Gender of pitching authors, 2021–2022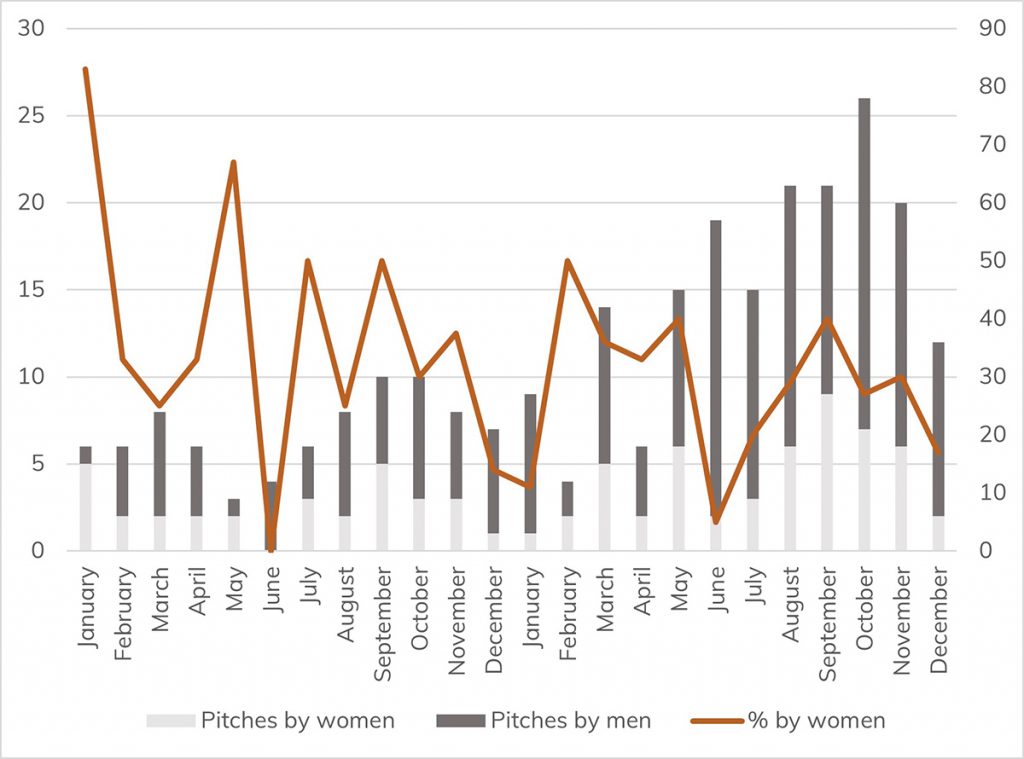 Gender of pitching authors (including not published), 2022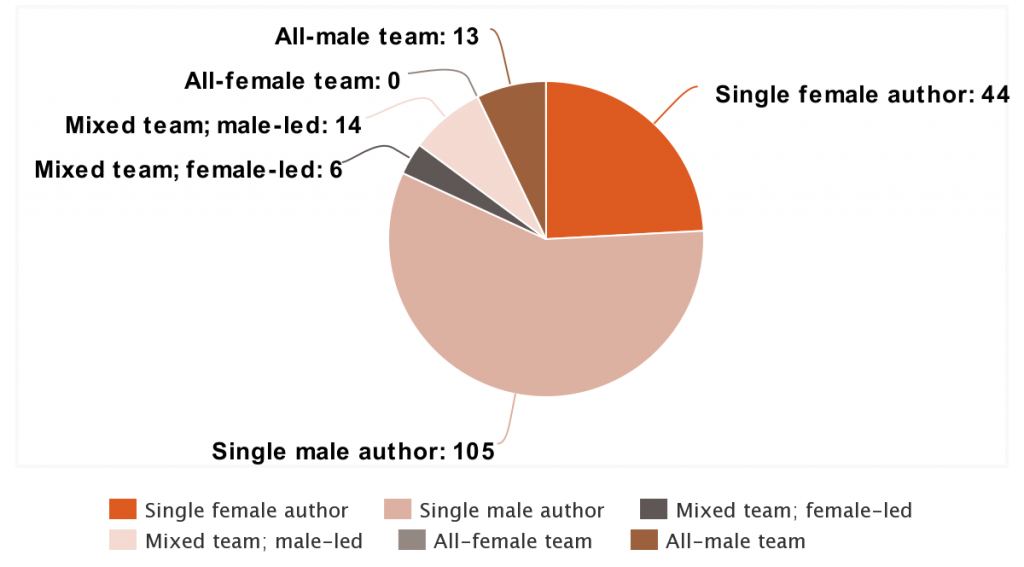 We know from other areas of academia that male researchers' research output is higher than women's. Journals publish more articles from male than female authors. This also holds true for the political science discipline as a whole. Female researchers often feel unwelcome in traditionally male-dominated areas, such as security studies. Others, such as feminist international relations scholars, experience citational silences.
Some studies show that the gender gap increased during the Covid pandemic. This may be because (among other things) women carried a greater childcare burden than their male counterparts while schools were closed.
Clearly, there is no quick fix for the gender gap in academia. However, as academics we are all responsible for being transparent about how it plays out in our work, and what we do about it. Some journals have recently adopted explicit strategies to reduce their gender gap, and have chosen to be transparent about the gender balance of their contributors.
The prestigious journal International Affairs is one such example. It publishes yearly reports and analyses of its gender balance across all outputs, and shares strategies to increase female authorship.
What we're doing about the gender gap
So, what strategies have we taken to narrow our gender gap on The Loop?
Successful Loop commissions in 2022, by gender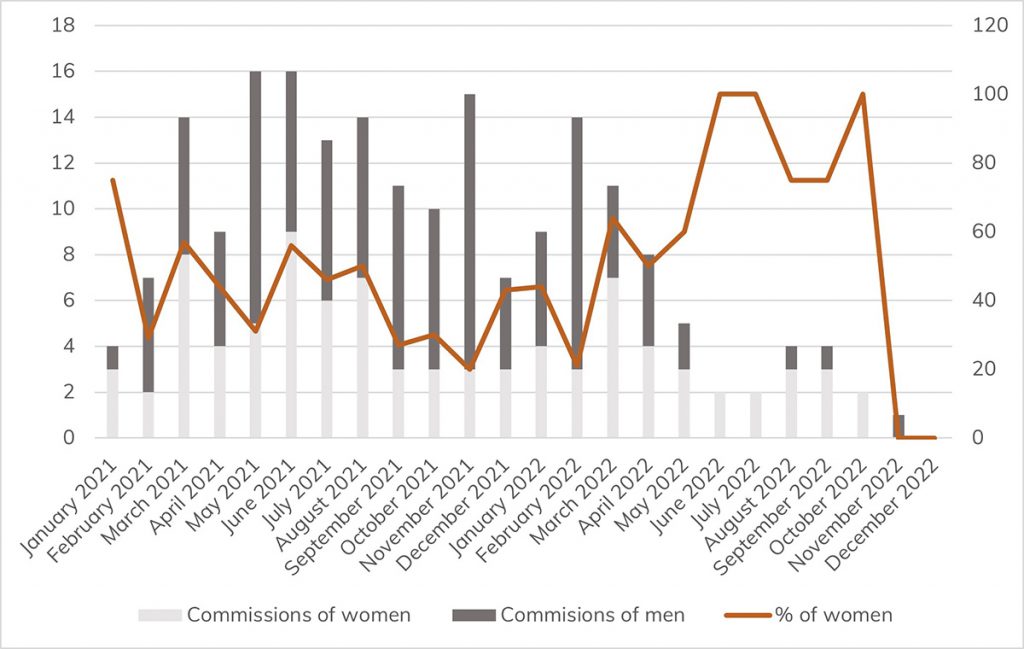 Our primary strategy is to commission more blogs from women than from men. At times where our level of commissioning has been higher, we have achieved a better gender balance in published pieces.
When we commission more, we end up with a better gender balance of published pieces
However, not all authors are available to write for us when we contact them – and this, too, often runs along gendered lines. In 2022, 53% of our successful commissions were of women, and we are looking to improve significantly on this in 2023. But, when we count in commission attempts, how many women we have reached out to as opposed to men, our numbers look different. In 2022 we approached 63% women, 27% men and 10% mixed teams. This suggests that women are more likely than men to decline commission attempts.
Loop commission attempts in 2022, by gender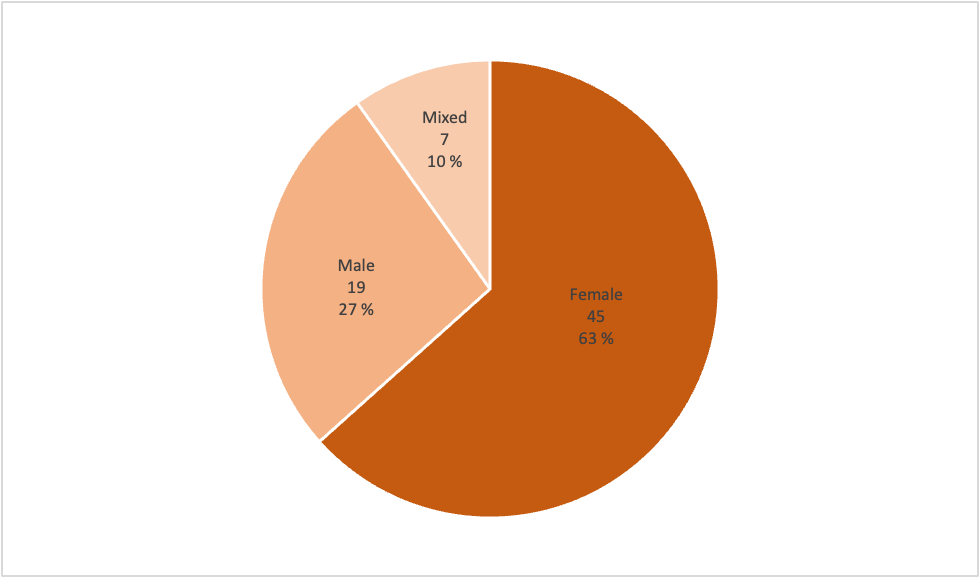 And as the Loop has grown, our copy-flow has shown a steady increase. Pitches come in more regularly and more frequently. However, these are still more likely to come in from men. Therefore, as the proportion of pitches has increased, our gender gap has widened.
In gender balance terms, we reached our lowest point in June 2022. During that month, 91% of published articles came to us in the form of spontaneous pitches. In one sense, of course, that represents a significant achievement! However, the corollary was that female representation reached its lowest-ever showing, at just 15% of published authors.
Throughout last year, we made considerable progress on the commissioning side. Sadly, given the even higher proportion of pitches from men, this progress was not enough to tip the proportion of female contributors above 50%.
Our editorial process and the gender gap
As editors of The Loop, we can encourage women to pitch us their ideas, but we cannot control the gender balance of incoming articles. What we can do is to make sure that the editorial process does not reinforce the existing male bias among our contributors.
We do this in two key ways. First, we make sure to commission more women than men. When asked to write for us, a large proportion of scholars respond positively. However, when a commissioned author turns us down, we often ask for suggestions for other experts who may be willing to write about the same topic. And women, more often than men, recommend other women.
Mindful of those with responsibilities at home, we work to find a flexible deadline that suits the author's timetable
We also let contributors know that we are flexible in terms of timing. The Loop is generous with deadline extensions, and when we commission pieces, we work with the author to find a deadline that suits their timetable. We hope that this helps contributors with responsibilities at home, whether childcare or other matters, to find the time to write for us.
Some online resources are helpful. WomenAlsoKnowStuff is a database of women political science experts with an affiliated Twitter account, @womenalsoknow. We sometimes use this to identify potential Loop contributors. Similar regional initiatives exist. Red de Politólogas, for instance, is a database of women political science experts in Latin America. Are there any similar initiatives around the world of which we're not yet aware? Please get in touch and let us know!
The challenge ahead
Out of our ten most-read blogposts (as of March 2023), seven are single-authored by a woman, one is co-authored by women and men and two are single-authored by a man.
The challenge ahead is to encourage more women to pitch us their ideas. We would love to hear from our readers and potential contributors on how we can help you put yourself out there. We also recognise that gender is not binary, and encourage pitches and feedback from scholars whose genders fall outside those of 'man' and 'woman'.
Our work on gender parity does not go alone. We also aim to increase our geographical reach in terms of author nationality and university affiliation; to include contributors at all levels of academic seniority; to secure a wide reach of topics; and to ensure that our contributors cover a wide range of approaches (from a theoretical focus to policy relevance).
Since our inception we have worked on increasing the geographical spread of our contributors, keeping in mind gender parity. Within ECPR member institutions we have focussed on increasing contributions from our partner universities in Central and Eastern Europe. As for engaging with non-ECPR institutions, we had first-time blog articles in 2022 from contributors based in universities in Azerbaijan, Bosnia & Herzegovina, Georgia, Iran, Kazakhstan, Kenya, Pakistan, Serbia, Singapore, Taiwan and Uruguay.
Gender imbalance is not the only challenge in academia; other groups are also experiencing biases and under-representation. But gender seems to be The Loop's greatest challenge.
The Loop is taking on the 50:50 challenge. We aim to achieve gender parity in 2023
Perhaps academic blogging seems a low priority in an ever more demanding sector. But a good academic blog will help you get your ideas and research findings across to a broad and interested audience, fast. We promote our authors on social media, and seek to create further opportunities to nurture conversation between our authors and the wider community. And we would very much like to ensure that these tangible benefits are experienced by those who have thus far been underrepresented in the discipline.
Inspired by International Affairs, The Loop takes on the 50:50 challenge. We aim to achieve gender parity in 2023.