The EU could learn valuable lessons from German Chancellor Scholz's recent official visit to South America, writes Carlos Cruz Infante. Scholz showed a diplomacy formula that could leverage the Union's geopolitical influence in the region
When I was a child in 1990s Santiago, having a German car always got people's attention. 'That's a real car. It's a German car. Germans make the best', my father would say. My dad's judgment also applied to German medicines, home appliances, machinery – anything with added value on which the user must rely.
Now, too, I propose we look to Germany. The EU should look to Germany. Not to its car industry, but to its diplomacy. Because the EU is losing ground in Latin America, and it should ramp up its efforts to regain its past influence, which is being ceded slowly but consistently to China and Russia.
In diplomatic terms, the EU is losing ground in Latin America to China and Russia. It should ramp up efforts to regain its past influence
As an FES-Latinobarómetro-Nueva Sociedad survey shows, Latin Americans perceive the EU as a world peace champion that defends human rights and promotes environmental protection. However, when we turn to power-related dimensions, Latin Americans point to China and the US – not the EU.
For instance, they see China as a technology, science, and education pioneer. Likewise, they maintain that the US is the most robust global military power, leading the fight against terrorism. The EU, instead, lags in economic and scientific diplomacy and hard-power dimensions.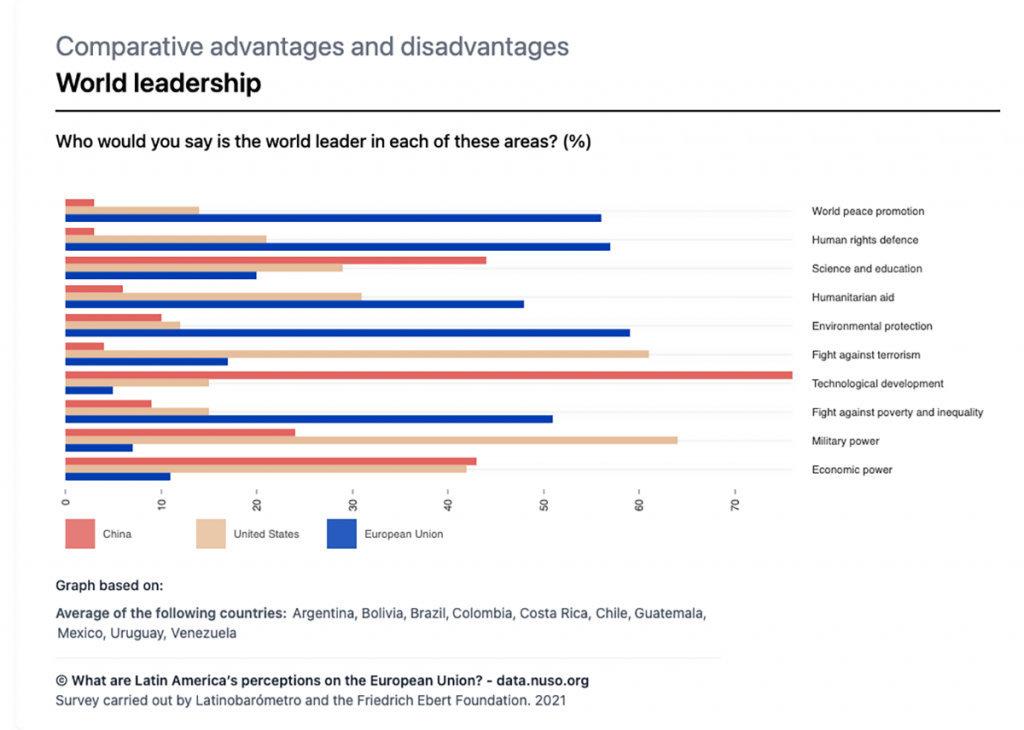 Why should we look at Germany?
Latin Americans still admire Germany greatly. Germany is the second most valued country in the region after the US (see below). Spain is also very esteemed, probably due to the narrow historical and cultural bond between the Spaniards and their former colonies.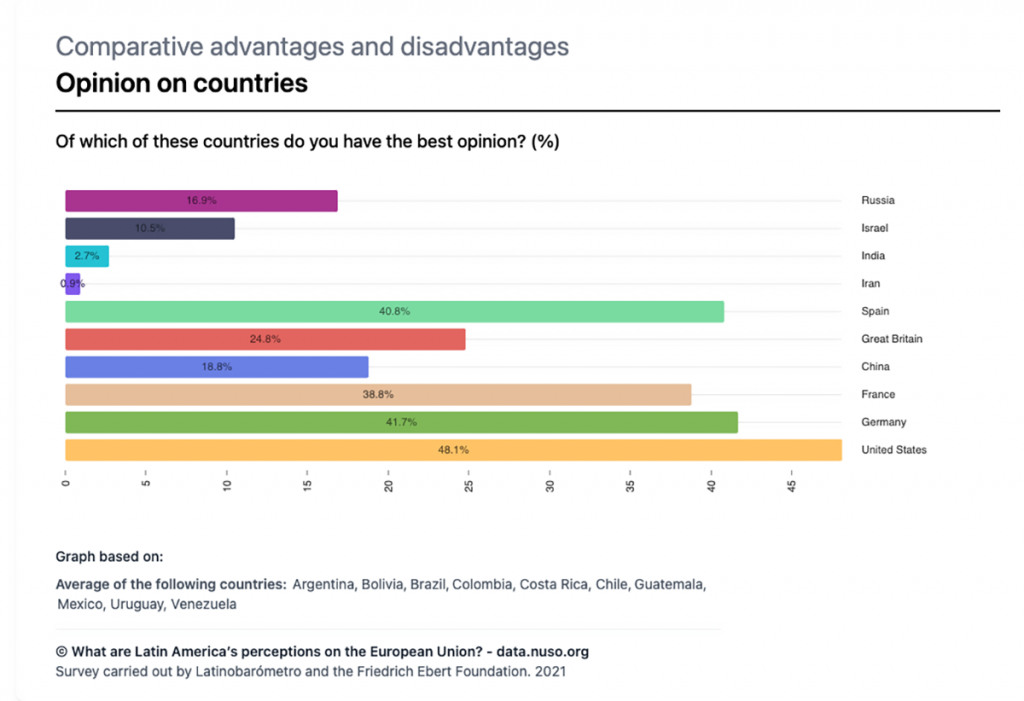 But what makes the biggest difference is that Germany is the most preferred development model among the European countries. Germany is preferred ahead of other developed economies like the US, Canada and Japan: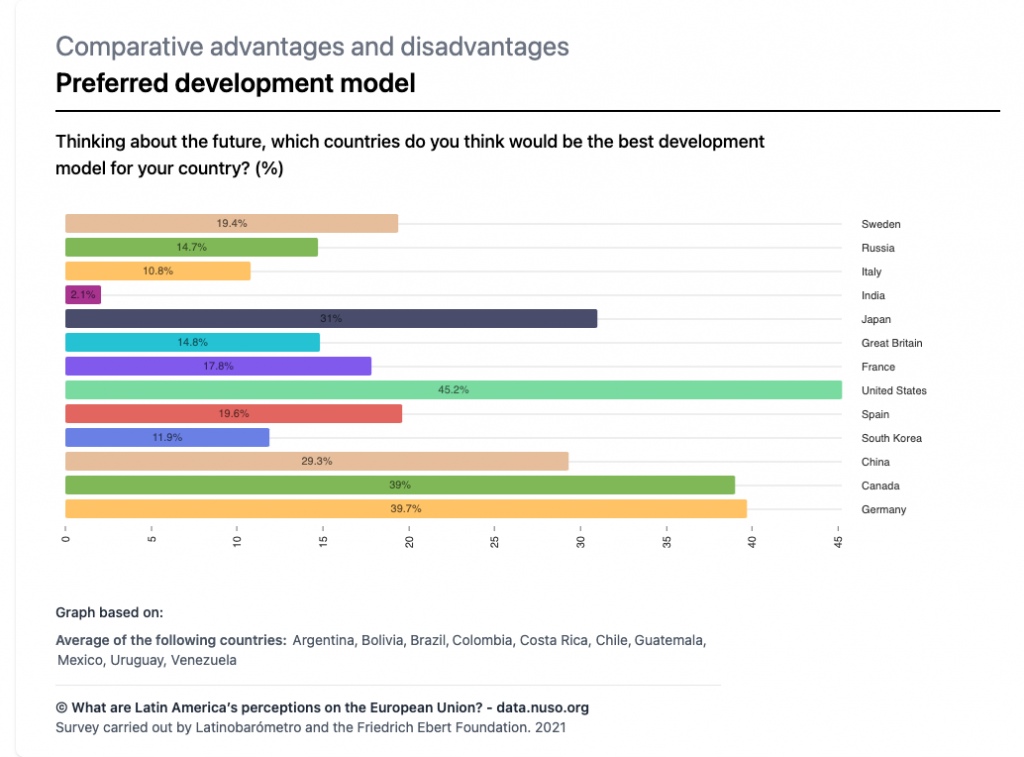 Germany has good reasons to strengthen its relationship with Latin America. Firstly, because of the green transition. The EU buys 78% of its lithium from South America, which holds the world's most extensive lithium reserves. This mineral is a key component in the manufacture of electric vehicle batteries. And what is the biggest electric vehicle market in Europe? Germany. 
Secondly, in 2022 Germany, like almost every EU member, suffered because of its energy dependence. Before, it depended on Russian gas; now, it depends on domestic coal-generated gas, a highly contaminant energy. Fortunately, in 2022 the Germans started importing Chilean green hydrogen. Germany is expected to begin working in the same direction with Argentina. These developments promise to diversify Germany's energy mix towards cleaner sources. 
Germany buys 78% of its lithium from South America, and is now importing Chilean green hydrogen
Thirdly, the US and some developing countries, like Brazil, South Africa, and India, have captured some of the EU's share of the global pharmaceutical sector. Germany is the primary European exporter. Beyond the competitiveness loss in research and development, Latin America will be the world's fastest-growing pharmaceutical market for the next six years. The EU does not seem to be aware of this.
Fortunately, the German government has been proactive concerning Latin America. It should maintain that stance.
Diplomacy lessons: the German government stands out
In January 2023, German Chancellor Olaf Scholz visited Argentina, Brazil and Chile.
Some were keen to point out that Scholz failed to secure official condemnation of Putin from Brazilian leader Lula. Nor did he obtain assurance of military support for Kyiv. However, those claims should not detract from three of the tour's remarkable aspects.
First, Scholz's visit was highly symbolic, reflecting ongoing efforts to build relationships with the region. Since his time as Hamburg's mayor, Scholz has been cultivating ties with Latin America. This tour is testament to the powerful bond Konrad Adenauer inaugurated in the 1960s. Moreover, Scholz's openness to engaging with Latin America stands in marked contrast to his predecessor Angela Merkel, whose fleeting visit to Mexico and Argentina in 2017 pales in comparison. Scholz capitalised on Latin Americans' admiration for Germany, and he reaffirmed his commitment to deepening Germany's relationship with the region.
Scholz's openness to engaging with Latin America stands in marked contrast to his predecessor Angela Merkel
Second, the Chancellor has been pragmatic. This is a highly valued trait among Latin American governments, and one that the EU is only just noticing. The German government has recognised that the Chinese hold strategic positions in Latin America's lithium value chain. To address this, Scholz crossed the Atlantic to meet the presidents of Argentina and Chile, which hold two of the world's three largest lithium reserves. Scholz thus signalled Germany's official interest in the sector. He made it clear that Germany would not settle for mere intentions but will make concrete deployments, following China's successful strategy in Latin America.
Third, conscious of the delayed EU-Mercosur agreement, rather than put his own country on a moral pedestal, Scholz has aimed for a more horizontal relationship with Brazil. French leader Macron repeatedly demands BRIC founder Lula make a public commitment to environmental protection. Scholz, by contrast, follows a give-and-take strategy, and has reinstalled Germany's payment to protect the Amazon rainforest. 
Can Scholz cement a new path for EuroLat relationship?
As the President of the Spanish Confederation of Employers' Organizations affirmed, 'Europeanizing relations with Latin America' is crucial to secure the EU's success, in which Germany can play a relevant role. 
Chancellor Scholz offers a valuable lesson. He has moved fast, he has chosen well, and his touch has been deft. As the European Parliament noted, Germany's leader has understood that Argentina, Brazil and Chile, despite their physical proximity, are entirely different countries. Scholz has also recognised the different political cycles of their presidents, adapting his approach accordingly in each case. 
It remains to be seen whether other members of the EU will follow that path, or whether they will leave the Chinese and Russians to exercise even more leverage in Latin America. The next EuroLat meeting in Brussels in July 2023 could be the right moment to test this.