Disinformation affects democratic systems and lowers the deliberative quality of our society. Analysing press coverage of the poisoning of Alexei Navalny, Christoph Deppe and Gary S. Schaal reveal that Russia Today journalists instrumentalise democratic institutions – including German government press conferences – in their favour
Disinformation happens in referencing networks
Disinformation is false information that aims deceive and/or produce capital gain. There were widespread campaigns of disinformation after Russian opposition leader Alexei Navalny was poisoned and brought to Germany to recover.
Disinformation in the Navalny case was a networked effort involving a multitude of Russia Today (RT) publications, from articles to podcasts to videos. Disinformation also included generation of content at Bundespressekonferenz, the citation of stories, articles, narratives and experts from Russian state media, and statements by the Russian embassy in Germany.
RT coverage of the case had three phases, each with distinct narratives. Phase one focussed on delegitimising reports about Alexei Navalny's poisoning in Russia. The second phase was about the precise substance that poisoned Navalny, and the delegitimisation of investigations that proved the use of a nerve agent from the Novichok group. In the final phase, RT focused on details surrounding the alleged poisoning. Meanwhile, it floated the hypothesis that the poisoning could have taken place outside Russia.
Disinformation in the Navalny case was a networked effort, including a multitude of publications, from articles to podcasts to videos
In the Navalny case, RT´s networked disinformation campaign used two key strategies. Firstly, it relied heavily on moral denigration to undermine the authority and credibility of political institutions, scientists, medical experts and the media in citizens' eyes.
Its second strategy was to spread corrosive falsehoods. This fuels the radicalisation of language and intentionally breaks taboos to deepen existing societal cleavages and raise barriers to communication. The resulting decrease of deliberative quality in society accelerates citizens' alienation from democracy. This is especially true among people with little media competence, who are particularly susceptible to disinformation.
Disinformation in German government press conferences
The German political media landscape in Berlin features a unique institution: The Bundespressekonferenz. The BPK is a press conference founded in 1949 by a group of parliamentary correspondents. Three times a week, journalists invite government officials to answer their questions.
In the past, the BPK has been at the heart of freedom of expression in Germany. The BPK is important to Germany's democracy, and to its deliberative quality, because it provides access to the government for a wide array of journalists. This improves the quality of information available to the public, which in turn benefits the deliberative quality of the entire system.
However, in recent times, actors whose mission is not critical journalism are increasingly frequenting the BPK. Such actors manipulate discourse towards an anti-state perspective and generate content with the express purpose of spreading disinformation.
Questioning tactics for content generation
In August and September 2020, RT journalists took a particular interest in Alexei Navalny at BPK, devising a number of techniques to generate deliberately misleading video content:
First, RT often suggests that the respondent – and therefore the government – is trying to hide information. Second, it uses narratives and information from Russian state media as reference points for its questions. Third, it frames questions in radicalised, alarmist language. Fourth, its questions regularly include false information presented as fact. Finally, it repeats questions about the same issue over and over again, leading to habituation.
Russia Today journalists devised questioning techniques that helped generate deliberately misleading video content
These techniques lead respondents to answer overcautiously, in an uncharismatic and sometimes complex manner. Clearly, respondents fear an unguarded answer could be interpreted as affirmation of a false fact or disinformation narrative. To the viewer, responses appear unnatural and contrived – and are therefore perfect for exploitation in the context of disinformation.
In the Alexei Navalny case, RT published a number of highlight videos from BPK, showcasing RT journalists asking hard questions that seem to distress German government officials. The clips were then published alongside articles pushing a Russian perspective and/or disinformation regarding the Navalny case.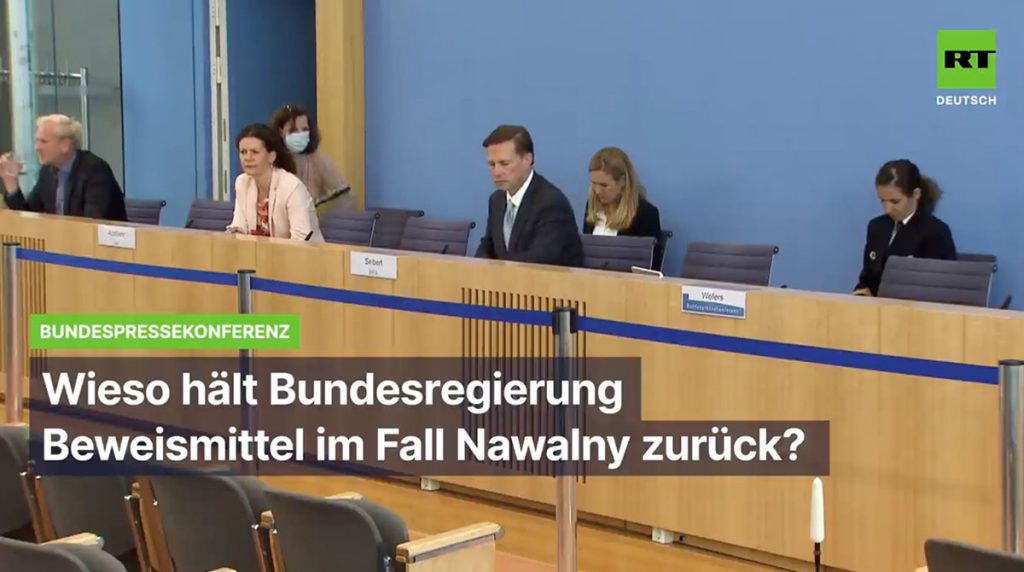 Referencing networks surrounding Russia Today
Evidently, the poisoning of Alexei Navalny was of great importance to RT. To uncover mechanisms of disinformation, we analysed media reports, press releases and press conferences directly after the poisoning until Navalny's release from Charité Berlin. Over the course of less than five weeks in 2020, RT published more than 90 articles, as well as videos and podcasts, about the case.
Russia Today may look and feel like a credible news outlet, but most of its output is based on Russian state media, and pushes a pro-Russian narrative
The BPK was important to RT reporting because RT was so proactive at the press conferences, constructing its own news.
RT attempts to look and feel like credible journalism by mimicking, at first glance, its techniques and behaviour. But most RT articles are based on sources from Russian state media and push a clear pro-Russian narrative. We can see this clearly in the Navalny case, in which the Russian perspective directly opposes the Western one.
Should outlets spreading disinformation be banned?
Since the Russian Invasion of Ukraine, RT has faced a number of sanctions. Its output and accessibility is diminished. Banning a news outlet is an effective measure in the short term. In the Navalny case, RT was effective in spreading disinformation because its publications were part of a sophisticated reference network, aimed at manipulating public discourse in a seemingly credible way.
RT's work has become harder for the time being. Yet disinformation will always find a way around sanctions – and drastic sanctions are at odds with principles of free speech in modern democracies.
A deepened understanding of the mechanisms of disinformation remains the first counterstrategy in the fight against disinformation.