The third consecutive parliamentary elections in just seven months have turned up the political heat in Bulgaria, writes Dragomir Stoyanov. Record low turnout, along with the election of new party We Continue the Change, will lead to the formation of a new government – albeit a fragile one
Record low turnout, and a new political player
Late-autumn temperatures are usually low in Bulgaria, but the political thermometer hit boiling point this year. The November elections attracted a record low turnout of just 39%. This was a particular surprise because the Presidential and Parliamentary elections took place simultaneously. Analysts expected a turnout of about 50%, and had based their forecasts of parliamentary composition on this figure. But exceptionally low voter numbers meant that predictions by pollsters and political leaders proved wildly inaccurate.
New challenger We Continue the Change (Prodalzhavame promyanata / PP) was the victor, winning 67 members of parliament (MPs) despite mobilising only around 660,000 voters. Led by two middle-aged entrepreneurs, PP attracted votes among young, educated Bulgarians.
the exceptionally low turnout of 39% meant that predictions by pollsters and political leaders proved wildly inaccurate
Kiril Petkov and Assen Vassilev were already well known for having served in the caretaker government of president Rumen Radev, as Minister of Economy and Minister of Finance, respectively. During their four months in post, they focused on three main messages. These were: we can curb corruption; we know how to modernise the country; and we have the energy to fight the political and economic status quo.
With their Harvard educations, positive, energetic approach and effective communication skills, Petkov and Vassilev endeared themselves to a significant portion of Bulgarian middle-class voters.  Meanwhile, the protest parties that had performed well in the April and July 2021 elections suffered significant losses.
Bulgarian parliamentary elections 2021 – results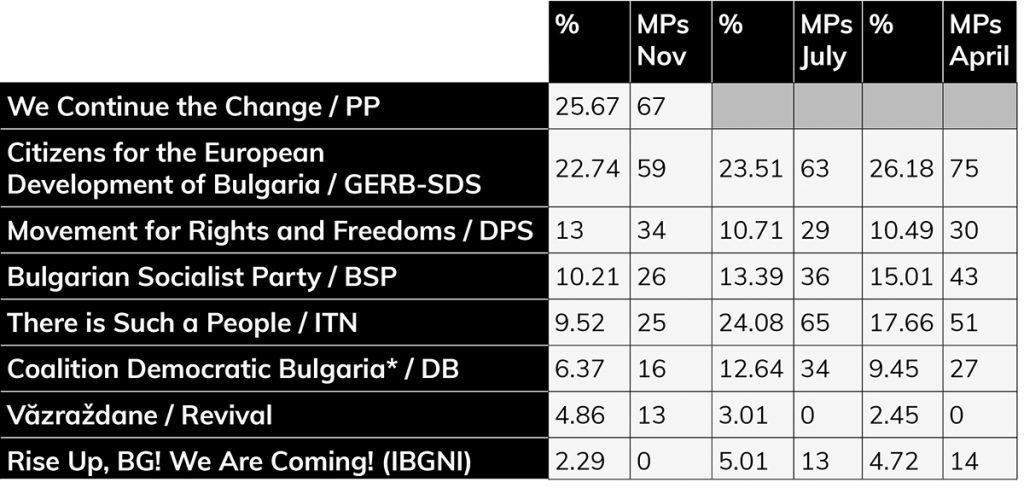 What became of the protest parties' flag bearers?
The winner of the July 2021 elections, Slavi Trifonov's There is Such a People (Ima takav narod / ITN), lost more than half its voters in the November elections. This significant electoral loss is partly the result of ITN's undeveloped party network. It is also a consequence of voters' disappointment with the party's failure to form a government back in July. About 40% of voters who had previously voted for ITN opted this time to support PP. This left showman Slavi's party with only 10% of the vote.
The coalition Democratic Bulgaria (DB) contested the July and November elections on an anti-corruption and rule of law platform. In July, it gained around 12% of the vote share; this dropped to only 7% in November, leaving it down in sixth place.
A significant number of people who had voted for DB back in July chose this time to vote for PP. Thus, the three-party coalition that led the protests against the Borissov government, and against endemic corruption in Bulgaria, lost supporters to another anti-corruption project. The other coalition, Rise Up, BG! We Are Coming!, which was represented in the previous parliament, failed to pass the 4% threshold. This party will therefore remain outside parliament.
the coalition that led protests against endemic corruption in Bulgaria lost supporters to another anti-corruption project
Still in isolation?
Long-term governing party GERB, in coalition with Union of Democratic Forces (Sayuz na demokratichnite sili / SDS), finished second. It attracted 23% of the vote, the same as in the previous election. This party's slow electoral erosion continues, but a well-developed party network, along with support from key figures at municipal level, keeps it alive.  During its electoral campaign, GERB struggled visibly with the anti-corruption discourse of its competitors. The party preferred instead to focus its attention on the government's mismanagement of Bulgaria's escalating Covid crisis.
The other party that may remain in isolation is the ethnic party Movement for Rights and Freedoms (Dvizhenie za prava i svobodi / DPS). This party put all its efforts into mobilising Bulgarian Turks, at home and abroad. By so doing, it succeeded in increasing its share of the vote. This time, DPS will have 34 MPs in parliament. However, key DPS figure Deylan Peevski, a Bulgarian oligarch, is sanctioned under the Global Magnitsky Act. This renders minimal the chances of his party forming part of a future government coalition.
Far-right on steroids
Another interesting result of this election is the appearance in parliament of a new far-right party: Văzraždane (Revival). Văzraždane is a Eurosceptic, xenophobic, and anti-LGBT party. It supports close relations with Russia, and the withdrawal of Bulgaria from NATO. The party's leader Kostadin Kostadinov opposes Bulgarian accession to the Eurozone, and wants a referendum on the issue. 
Eurosceptic, xenophobic, and anti-LGBT party Văzraždane supports close relations with Russia
Kostadinov claims that Bulgaria is a 'colonised' country governed by Western ambassadors. His message resonates with a particular section of Bulgarian voters.  Văzraždane also profited from the Covid pandemic, accusing healthcare institutions of serving the interests of big pharma and globalists. Kostadinov even led an electoral campaign against vaccinations.
What's next for Bulgaria?
What can we expect after these elections?  First, the chances of a regular government forming are higher than in April and July. However, the government is unlikely to be stable. Second, the new government will rely on the support of the president, and the presidential institution may in turn increase its political leverage. Third, once formed, the government will instigate reforms that a significant number of voters expects. The speed and scope of these reforms, however, is not guaranteed. Thus, change may come – but modernisation of the EU's poorest country will limp onward, slowly.