Sorina Soare rebuts the commonly held idea that all populist parties are unstructured organisations, exclusively dependent on their leaders' communication skills. In Romania, through initiatives such as the creation of a mobile hospital, the populist party aims to forge stable territorial linkages with diverse groups of voters
Populist party organisations
Scholarship has paid considerable attention to populism's ideological features, electoral performance, leadership and general impact on liberal democracy. However, the way in which populist parties are organised remains relatively understudied.
Conventional wisdom depicts populist parties as lightweight organisations. But recent literature challenges this generalisation as simplistic, and highlights the importance of national context and individual agency. There is rich empirical evidence showing that populist extra-parliamentary organisations can recruit members at national and extra-territorial levels, galvanising political participation in-between elections and at election time, thereby providing opportunities for political socialisation. The Alliance for the Union of Romanians, AUR, is a valuable case in point.
Populism in Romania
AUR formed in September 2019, with an official launch organised for 1 December that year. The date coincides with a Romanian national holiday celebrating the 1918 unification of Transylvania, Bessarabia and Bukovina with the Romanian Kingdom.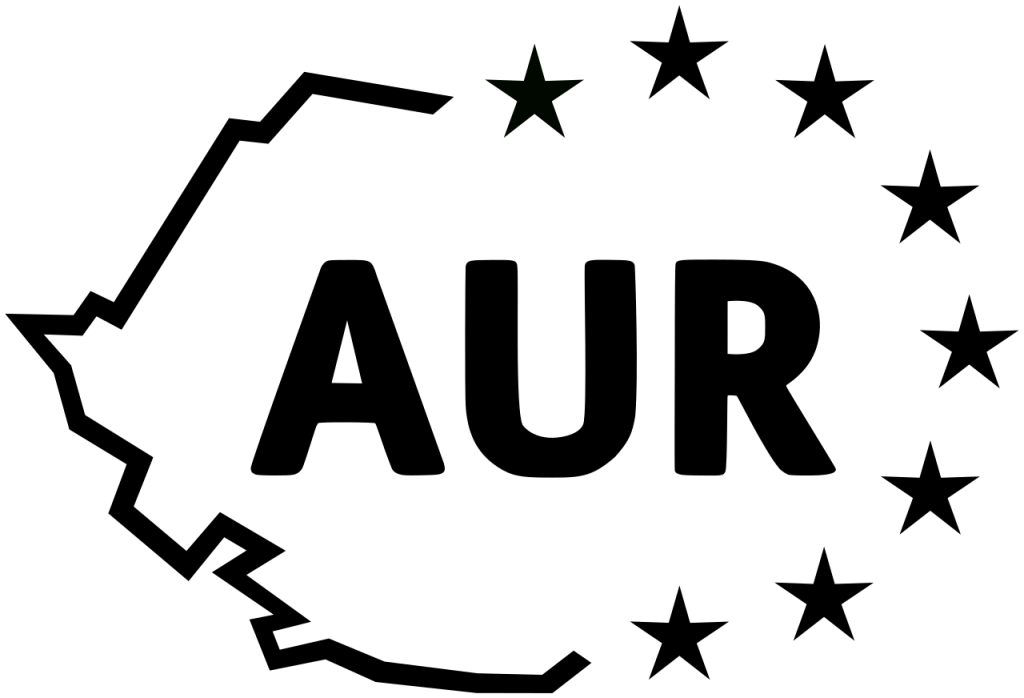 Symbolically, the party's logo alludes to the borders of 'Great Romania' extending over the current Republic of Moldova.
AUR managed its 2020 legislative election campaign online, although traditional canvassing was equally important. For both methods, the party capitalised on its founding leaders' activist networks established through prior non-partisan campaigns on topics including Romania's unification with the Republic of Moldova, and the defence of traditional family values and Christian faith. These networks acted as trustworthy intermediaries between AUR activists and society at large. Thus, they promoted trust and a sense of community with like-minded voters.
Party activism on the ground
Previous research has examined the recruitment of party members as an important source of volunteer labour. Volunteers help raise the party's profile, and carry out fundraising. For example, during the early stages of the pandemic, AUR volunteers went door to door providing food and medicine.
This 'synthetic reconstruction' aligns with the literature on party organisation, which argues that existing societal ties cultivate party infrastructure that becomes self-sufficient in the longer term. Societal ties also help maintain support after an electoral breakthrough, which AUR achieved in 2020.
After these elections, AUR continued investing in its extra-parliamentary organisation through locally rooted organisational structures. Intense training and socialisation for activists during conferences, workshops, and summer camps complemented this organisational extension. During these events, participants reflected on shared values and attitudes compliant with the party's programme.
The mobile hospital initiative
In an attempt to attract new supporters beyond the 2020 constituency, and to reinforce its difference from the mainstream parties, AUR announced a mobile hospital initiative – an idea it had already advanced during the 2020 electoral campaign. AUR promised it would not use public subsidies for conventional campaigning; rather, it would spend the subsidies on social activities.
However, Romania's laws on party finances prohibited the use of public subsidies for charitable projects. Despite this, in September 2022, Senator Claudiu Târziu announced that AUR had discovered a legal loophole that would enable it to implement the project. At the December 2022 National Congress, AUR launched the operational phase aiming to implement a mobile hospital, using funds from the party's 2023 budget.
Challenging legality
In February 2023, party leader George Simion announced AUR's intention to provide a mobile hospital infrastructure, comprised of three trucks. Simion appealed for medical professionals willing to act as unpaid AUR volunteers. The AUR medical convoy would offer free services to local residents. Meanwhile, it would also distribute literature on AUR party policy.
The Permanent Electoral Authority (PEA) is the institution responsible for the management and control of Romanian parties' finances. PEA warned AUR that its hospital initiative was illegal; AUR leadership disputed this, and stood firm in its intention to purchase motor vehicles. Funding for medical equipment was taken from membership fees, donations and other non-public funding sources.
In the wake of PEA's criticism, the party abandoned its plans to distribute AUR-branded spectacles. But keen to continue delivering medical services, AUR leadership announced its plans to collaborate with specialist foundations and medical staff drawn from AUR's network of sympathisers, volunteers and members.
Populists as champions of ordinary people
It is not yet clear whether this latest initiative is legal, or whether it is going to be implemented in full. However, AUR's communication channels portray the project as an extra-parliamentary platform for addressing the real needs of Romanians. It is too early to evaluate its success, but the initiative is proof of AUR's continuing interest in connecting with potential supporters online and face-to-face.
AUR's innovative mobile hospital is an offline, diversified, grassroots service of the kind that reinforces community spirit among party supporters. It also provides opportunities for supporters to interact with a broader community of potential voters. This is crucial to AUR's strategy in view of the 2024 European, legislative and presidential elections.
Grassroots initiatives: a trend?
AUR's story is not unique. Andrej Babiš, former prime minister of the Czech Republic, also used cancer care strategically, as an electoral platform. Most notably, Babiš pledged that his party would run mobile cancer-screening buses, though the project never came into effect. In both cases, populist leaders offered medical services to make themselves appear champions of ordinary people whose lives are threatened by an establishment that deprives them of affordable, sustainable healthcare.
Meanwhile, partisan actors taking direct action to provide a public service, rather than simply advocating for policy change, gives such initiatives a characteristically populist feel. It is one that avoids easy characterisation in left-right terms.
17th in a new series on the Future of Populism. Look out for the 🔮 to read more