The emergence of criminal organisations has been blamed on state weakness. But recent trends in organised crime expansion show that criminal groups often move to states with strong economies and institutions. As mafias establish permanent roots in new countries, Gemma Dipoppa suggests that migrant exploitation might play an important role
Criminal organisations and strong states
Over recent decades, criminal organisations have reproduced their business model in rich and high-capacity states. Criminal families from Calabria now call Germany home; Russian mafias inhabit the warm costal area from Cannes to Saint Tropez; the Sicilian mafia famously created an American spinoff. In his 1999 book Death Dealers, Yves Lavigne suggests the Hong Kong Triads are considered 'the biggest long-term security threat' in Canada.
It is not hard to imagine why criminal groups might want to move to these places. Strong states generally come with richer markets, prospects for bigger profits, and vast opportunities for money laundering.
How do criminal groups escape strong state prosecution?
But strong capacity also means a higher likelihood of detection and repression. How do criminal groups escape strong state prosecution? How do they recreate important resources that make them hard to eradicate – meaning a reputation as a credible threat, networks of informants and contacts in the institutions – before strong states can discover and crack down on them?
The Achilles' heel of strong states
In high-capacity states, rules violation is costly. This is a characteristic which makes such states strong, and generates demand for organised crime services. Those who break the rules run a high risk of denunciation and prosecution.
For example, businessmen who hire informally run a constant risk of being denounced by their employees. Similarly, politicians think twice before trying to 'buy votes' from electors, since revealing such an exchange could ruin their career. In these contexts, the capacity to enforce illegal contracts so that they stay secret is a precious service. It's one in which criminal organisations are specialists. But how can they offer this service even when they move into a new area?
Migrant exploitation
Cases of expansion across countries have something in common. From Sicily to the US, from Calabria to Germany, from Hong Kong to Canada, mafia members have moved together with a mass of migrants from their same area of origin, looking for better jobs and life prospects in a new state.
Migrants from mafia-affected areas have two characteristics that make them particularly exposed to criminal groups' control. First, they are aware of criminal groups' reputation for violence, and might have family members back home who criminals can target for retaliatory purposes. Second, they have difficulties entering the new labour market, either because of typical frictions migrants face in immigration countries, or because they are illegal.
Organised crime can therefore often provide 'controllable', illegal labour to businessmen in the new area of expansion. This means a labour force aware of its illegality, but which will not denounce it even in situations of work-related accidents or clear exploitation in terms of low incomes.
organised crime can expand when criminal organisations strike agreements to provide controllable illegal services to local actors in the new states
The expansion of organised crime can happen when criminal organisations are able to strike agreements to provide controllable illegal services to local actors in the new states. This guarantees that criminal groups generate a stream of revenues in the new territory. It also guarantees they can recreate their reputation and networks with economic and institutional actors that allow them to export their business model and survive the prosecution of strong states.
The Southern Italian mafias move North
I show that an important case of expansion responds to this logic. Over the past 50 years, Southern Italian mafias have infiltrated the wealthy North (see Figure), reaching levels of penetration similar to those in the South, such that today Milan ranks first, ahead of Naples, for the number of firms seized by mafias.
Infiltration of criminal organisations in the North of Italy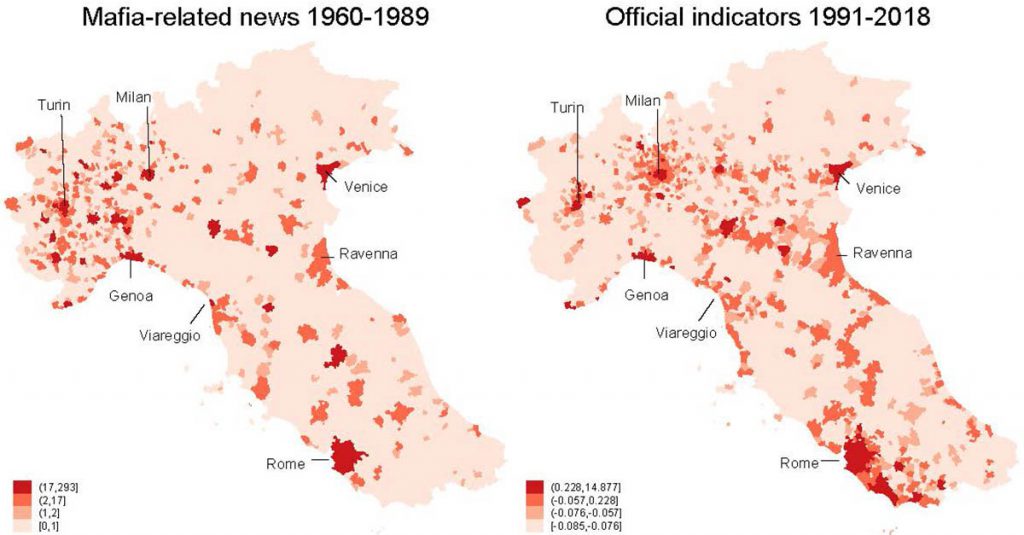 At the onset of expansion, mafias provided controllable labour of southern Italian migrants to businessmen in the construction sector. Mafias guaranteed that migrants would not report the illegal agreement to the police, even in cases of work-related accidents, which are extremely common in this sector and period.
Cities with both a boom in construction and in migration experienced a higher likelihood of infiltration. But higher migration alone does not predict mafia expansion. This suggests that it is the opportunity of exploiting migrants that allowed mafias to expand. Migrants themselves did not bring higher crime.
Mafia-infiltrated cities are also more likely to vote for the party that historically entered into agreements with organised crime. This suggests that mafia infiltration is based on deals with both economic and political actors in these new areas.
Not just an Italian story
There are other cases, besides Italy, characterised by the effects of the contemporaneous move of migrants and mafia members. The leitmotif of this mafia expansion is often labour exploitation.
In the early days of the Italo-American mafia, mobsters acted as intermediaries between local businessmen and Italian migrants in the garment industry. In the agricultural fields of California, migrants from Mexico work in conditions close to slavery under the control of Mexican cartels. The same happens with the Nigerian Black Axe. This organisation is expanding into Italy by smuggling and controlling migrants in agriculture, in conditions close to slavery.
The leitmotif of mafia expansion is often labour exploitation
While the specifics of each case vary, the dynamics observed in Italy are likely to operate elsewhere.
We can draw two key lessons from the expansion of criminal organisations into strong-capacity states.
First, strong states are permeable to infiltration when local actors enter into agreements with criminal groups. This expansion can be permanent if it is not recognised and combatted early on, before criminal organisations put down roots in the new territory.
Second, states consider electoral and economic implications when formulating migrant integration policies. They should also take security into account. Policies that help migrants find legal employment in the new system might do more than just save victims from exploitation. Such policies could also strip criminal organisations of their power, thus preventing their expansion.