'We don't do politics!' is a common refrain from international bureaucrats, governmental delegates and civil society representatives engaged in multilateral negotiations. Marieke Louis and Lucile Maertens take these apolitical claims seriously. In doing so, they unveil the politics of depoliticisation in international organisations
Apolitical claims
International organisations (IOs) are at the forefront of the art of doing politics while pretending not to. We conducted fieldwork at the International Labour Organization (ILO) and at the UN Environment Programme (UNEP). As we did, we heard constant claims from officials that they 'don't do politics.'
Yet the object of their mandates, respectively to negotiate international labour standards and to protect the environment, are inherently political. For instance, UNEP's supposedly neutral assessments included very political recommendations on the most appropriate public policies to adopt to avoid local conflicts in Sudan. And delegates at the ILO refer to 'technical, labour-related issues' as if they are 'not dealing with political matters.'
These examples are part of a pattern in many policy fields. These fields include humanitarian action, development, global health, security and peacekeeping as well as international trade, among others. IO actors — secretariats, staff and consultants, members, delegates, observers — tend to see their role as being outside the realm of politics.
we cannot reduce international organisations to apolitical mechanisms to facilitate international cooperation
However, while such actors tend to minimise the political dimension of their actions, they implicitly acknowledge their political commitment. IOs are embedded in the politics of international relations: they constitute sites of contradiction between states; they provide a framework for the mobilisation of non-state actors such as transnational activist networks or multinational corporations; they play a key role in shaping global problems and the governance system to deliver multilateral responses.
In other words, we cannot reduce IOs to apolitical mechanisms to facilitate international cooperation. This paradox is the starting point of our book, which explores the process of depoliticisation performed by and within IOs.

The politics of depoliticisation
How, why and to what end do IOs present their action as outside the realm of politics? This is where the concept of depoliticisation is useful. Applying it to the case of IOs, we build bridges between growing scholarship on (de)politicisation and IO studies on functionalism, international bureaucracies, anti-politics and politics of expertise. IOs are no longer terra incognita in the field of political science. But people still tend to perceive them as non-regular and even odd entities. 'De-insulating' IOs from international studies allows us to reinstate them, both in their specificity and banality.
Depoliticisation is the process in which a situation is considered outside of politics and framed as apolitical
Depoliticisation is the process in which a situation is considered outside of politics and framed as apolitical. We adopt an inclusive view of politics: if politics is not necessarily everywhere, everything can become political under certain circumstances. One emblematic example is the increasing influence of experts who can serve depoliticisation or politicisation initiatives. Which they do depends on which expertise, who uses it, and how. While we analyse IOs and depoliticisation, we shouldn't see it as contradictory to the assumption that IOs are essentially political actors.
Depoliticisation is a political process of minimising, concealing and even eliminating politics within IOs. The question we raise is not whether IOs are apolitical or if IO action is depoliticised. Rather, it is how IOs perform depoliticisation and what are the consequences of IO depoliticising moves.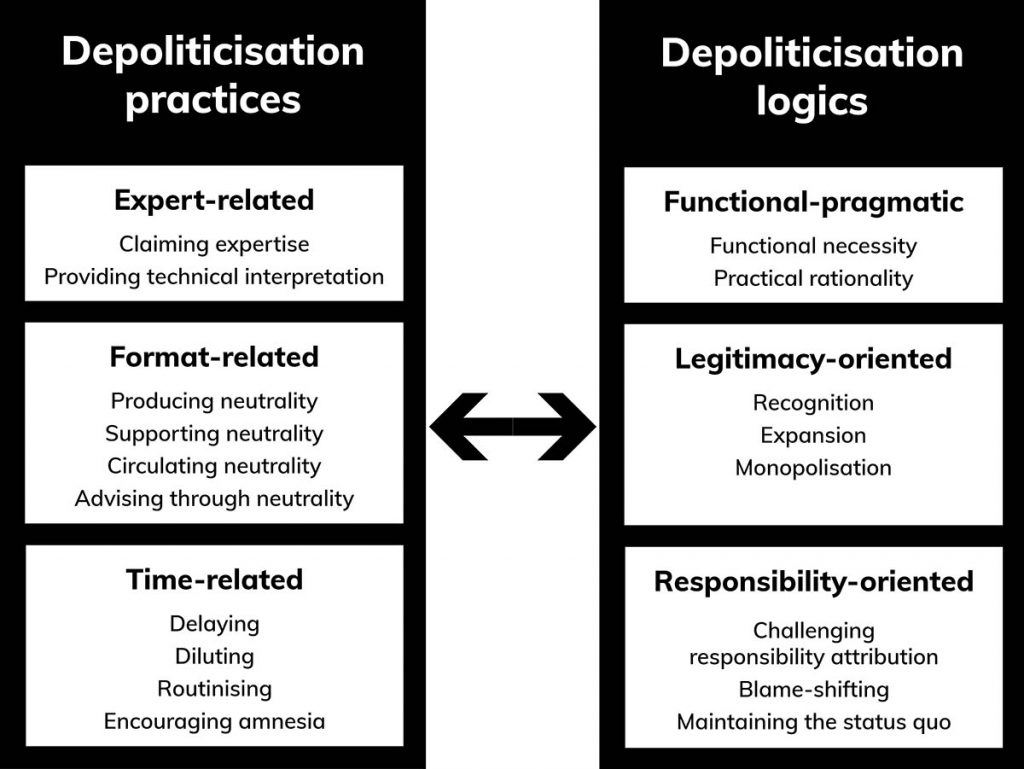 Depoliticisation in practice
Depoliticisation works in three ways. First in claiming expert knowledge and objectivity, thus allowing IOs to provide technical interpretation of the world's most pressing problems. Second, depoliticisation works to 'format' neutrality. IOs develop and circulate ideas and products (factsheets, maps, FAQs, best practices, etc). These inform, but, most importantly, advise the international community on the 'right' path to follow. Here formats matter as much as content when it comes to depoliticisation. Third, depoliticisation helps to gain time and lose momentum. Such understudied practices rely on delaying decision-making, diluting the issues at stake, routinising apparently urgent matters and sometimes even encouraging amnesia over sensitive issues.
Unpacking depoliticisation allows us to challenge the rampant, negative view of politics which tends to dominate within IOs
IOs depoliticise following three logics of depoliticisation. First, they claim to act according to a logic of necessity and rationality to answer people's needs and solve problems. Second, through depoliticisation, IOs fight for recognition and attempt to expand their mandates. They are, therefore, constantly reaffirming their relevance and legitimacy in a competitive environment. Third, IOs can avoid responsibility by finding scapegoats and disengaging from politics. This maintains the status quo and existing power relationships within and among IOs.
Depoliticising the world
Unpacking depoliticisation within IOs in a systematic way questions long-held views that some issues are by their nature more political than others. Even the most controversial issues, such as UN Security Council reform or the recognition of responsibility in the face of genocides, could become depoliticised. As shown by the debated role of the World Health Organization during the Covid-19 pandemic, the world of IOs is not easy to divide between 'political' vs 'technical' organisations.

Unpacking depoliticisation also allows us to challenge the rampant, negative view of politics which tends to dominate within IOs. In order to fulfil the 'noble' cause of international cooperation, IOs are likely to distance themselves from the 'dirty business' of politics. Yet, by acting with discretion, away from national political battles, public opinion and the media, they conceal the choices and biases that shape their activities. In doing so, they fail to answer the growing demand for transparency, accountability and democracy at the international level. Such a stance can be counterproductive to their goals, potentially aggravating the IO legitimacy crisis.