Attention to secessionist movements in Canada normally revolves around Quebec. Yet, writes Adam Stokes, we also find similar movements in Western Canada. Although such movements are gaining notability in the West, they are not likely to succeed any time soon
Secessionist movements, which support the separation of their region from a larger parent country, are commonplace in the Western world. And when you think about secession in Canada, you probably think first of Quebec. Given Quebec's high profile, it is unsurprising that Canada's other secessionist story, Western Canada, has attracted little attention from academic literature and the wider media.
Western Canadian secessionists support the separation of Canada's Western provinces (Alberta, British Columbia, Manitoba and Saskatchewan) from Canada in order to establish a new state. This movement has not enjoyed the electoral success of their Québécois counterparts. Yet I believe now is the time to begin discussing these parties.
In 2019, the Alberta Independence Party stood in a majority of seats in the Albertan Provincial Election. At the recent Canadian General Election, the Western Canadian secessionist Maverick Party stood in seats in Alberta, British Columbia, Manitoba and Saskatchewan. In 2021, Alberta's Wildrose Independence Party has also gained double-figure support in polling.
The history of Western Canadian secessionism
In the late 20th Century, the Western Canadian Concept (WCC) was the first significant party to advocate for Western secession. The party stood consistently in provincial elections in all four Western Canadian provinces between 1979 and 2009. However, the party never achieved significant electoral success, with the exception of a single Albertan provincial by-election victory in 1982. The WCC's most successful electoral performances came in the 1982 provincial elections, in which it won 11.8% of the vote in the Alberta and 3.3% of the vote in Saskatchewan. Yet by the turn of the century, the WCC had begun to decline.
The secessionist tendency is particularly clear in Alberta, which saw two provincial secessionist parties emerge in the late 2010s
In the late 2010s, a new group of Western secessionist parties arrived. This trend was especially clear in Alberta, which saw the emergence of two provincial secessionist parties: the Alberta Independence Party (AIP) and the Wildrose Independence Party of Alberta (WIPA).
The AIP was founded in 2018. The party stood in the 2019 Albertan Provincial Election but was only able to win 0.7% of the vote. The WIPA was founded in 2020 and is led by former Alberta Alliance Party Assembly Member, Paul Hinman.
At the federal level, the Maverick Party, formerly known as Wexit Canada, was founded in 2020. Its leader is former Conservative Cabinet Minister, Jay Hill. The party advocates achieving 'greater fairness and self-determination for western Canadians'. It aims to achieve this either through 'constitutional change' or 'the creation of an independent nation.' The Maverick Party stood in this month's Canadian federal election. It won just over 1% of the vote in Alberta and Saskatchewan, and an insignificant number of votes in British Columbia and Manitoba.
The ideology of Western Canadian secessionism
The one common feature of all Western secessionist parties which have existed over the years is their right-wing ideology. For example, in their most recent party programs, both AIP and WIPA favour sweeping tax cuts and tougher border controls.
A possible explanation as to why these parties hold a right-wing position relates to economics. In 1994, Christopher Harvie developed a discourse known as 'bourgeois regionalism'. His theory was that economic grievances can occur in a region when its citizens feel as if their hard-earned economic prosperity is being taken away from them by a central state and given to less hardworking regions. Based on this discourse, in 2015, research by Massetti and Schakel found that regionalist parties in comparatively wealthier regions were more likely to be right-wing.
GDP per capita, USD per head, constant prices, constant PPP, base year 2015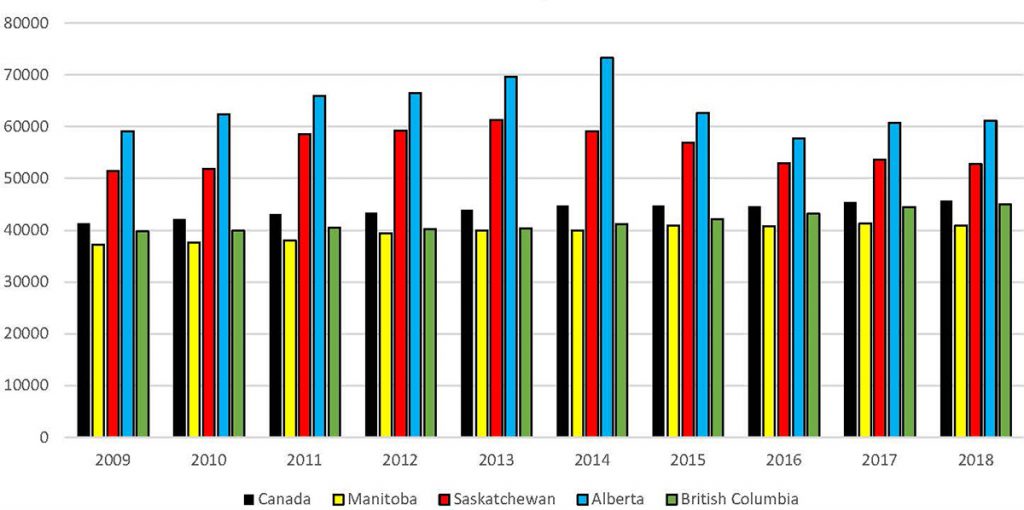 These theories seem applicable to the Western Canadian case, in particular to Alberta and Saskatchewan. For over a decade, Alberta and Saskatchewan have performed better economically, from a per capita perspective, than Canada as a whole. Interestingly, the economic performance of British Columbia and Manitoba have been comparatively worse. This could explain why the Maverick Party was more successful in Alberta and Saskatchewan in the most recent Federal Election. It might also explain why Alberta specifically has seen the emergence of new secessionist parties.
WIPA makes clear the economic grievance argument. On its website it claims that:
In recent decades an excess $600 billion has been extracted from the people and businesses of Alberta to pad Ottawa's coffers. They gladly took and spent our money, but what thanks has Alberta received in return? What was our reward for being the engine of the Canadian economy?

Wildrose independence party of alberta
The future of Western Canadian secessionism
It is impossible to predict the future. But it is still useful to consider the possible future of Western Canada's secessionist parties. It will be worth looking at Alberta's next Provincial Election, likely to take place in 2023. In terms of polling, the WIPA seems to have attracted some support throughout this year. A Mainstreet Research poll found support for WIPA at 16%, and a Leger poll at 8%, in May and July respectively this year.
In 2019, a University of Alberta survey found 29% support for independence
There is still a long way to go before the election. Yet this level of support does offer the party some hope that they could be the first Western secessionist party to win a seat in a Provincial Assembly outside of a by-election.
However, support for full independence itself is still far from the majority opinion. In 2019, a University of Alberta survey found support for independence in Alberta to be at 29%. We might be seeing an increase in activity from secessionist parties in Canada's West. But I cannot imagine Alberta, or Canada's other Western provinces, achieving independence any time soon.